APARTMENT MOVERS GLENDALE
Put your trust and your items in the hands of our dependable apartment movers in Glendale!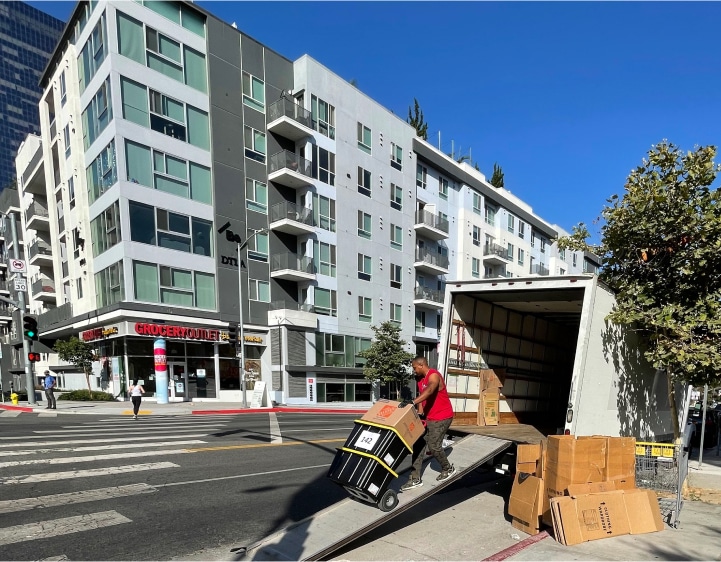 Have you been thinking about moving out of your current apartment into a new one? No matter whether you are thinking about moving into a larger one, a smaller one, or one that is in a different city, county, or state, you are in the right place. Here at Bravo Moving, we have been helping out fellow residents relocate from apartment to apartment since the day we decided to enter this industry. Unlike moving entire houses, apartment relocations can look far less demanding, at least on paper. However, you may realize that is not the truth. Therefore, we would like to invite you to call us, one of the best apartment movers Glendale has to offer, when you decide to relocate. Use our knowledge when you need it most!
Why call apartment movers Glendale has to offer to help you with your apartment relocation?
Many people thought we were crazy when we decided to focus an entire section of our company on apartment moving. Simply, they argued that hiring professional Glendale movers to help with apartment relocation was simply an unnecessary caprice. What they did not know was that too many people realize the importance of apartment movers from Glendale only when their relocation takes a turn for the worse. Obviously, you should make sure, on time, that you are not one of those people. Know better and invest in your peace of mind by getting in touch with us as soon as you decide to relocate. There are many things that we can do to make your relocation a simple process.
To make sure that you have a full understanding of what professional movers can provide you with, let's take a glance at the benefits and then we will go into more details:
Keep your costs down
Provide your belongings with the proper level of protection
Quality time management
Do the heavy lifting in your stead
Let's take a close look now.
Keep your costs down with the help of Glendale apartment movers
The first thing that we would like to talk about is probably one of the things that are going to affect your decision to hire professional movers in the most profound way: the money. Now, let us point out that we will not be talking figures. To talk figures, you may use our free moving estimate. Right now, we would like to point out how professional movers keep your costs down. We arrive on time and immediately set things into motion!
You can count on us for:
The most important thing to have in mind is that our professional movers in CA have the training needed to perform relocations. Secondly, we do this every day. We are a well-oiled machine. Furthermore, we are mindful of our every step. In essence, we know why we do stuff when we do them. And because we have all the experience we do, your move is going to cost you less than if you were to deal with it yourself.
Your belongings deserve proper protection
The next reason why having the Glendale apartment moving company by your side is to make sure that all of your items survive the apartment change unscathed. As one of the best moving companies in California, we will take great care of your belongings. Simply, packing your items properly is what we will do. And that is one of the most important reasons why you should have us by your side.
Packing belongings may sound very easy. However, it can be pretty demanding, especially if you have no experience in it or when not using proper packing materials. We have materials in abundant quantities. And, we will use as many of them as you may need. All you have got to do is call us.
Quality time management is one of the perks of hiring apartment movers from Glendale
Time is of the essence. No matter whether you are moving apartments locally or to a different state, your chosen apartment movers are going to make sure that your move is completed in record time. Sometimes people rush into moving by themselves not having in mind how much time they need for the whole process. With us by your side, you are not going to be facing this potential issue. Instead, you will be in your new California apartment as quickly as possible!
We will do the heavy lifting in your stead
Are you confident that you can lift all of your items? We trust you can! However, how confident are you that you can safely take them out of your apartment, down the stairs, load them onto your truck and then do everything in reverse upon arrival to your new home? The whole process does sound like a lot of work, doesn't it?
This is the work that we can perform for you. We are going to do the heavy lifting in your stead. This way, nobody is going to suffer any injuries, first of all. Secondly, we are going to ensure that all of your items suffer no damage in transport. Lastly, bear in mind that all that relocating of bulky things means that two apartment buildings might be under the threat of suffering small or large damage from furniture being taken out and in. This is most definitely something that is not going to take place if we handle your apartment relocation from Glendale.
Hire your apartment movers Glendale has to offer today!
As you have seen, apartment moving all by yourself is far from simple. However, when you have quality apartment movers Glendale has to offer by your side, things can take turns for the better! All that you need to do in order to secure reliable apartment moving help is to call us as soon as you decide to move! We are going to respond in record time!
GET IN TOUCH
Send Us A Quick Email