LOCAL MOVERS GLENDALE
Team up with professional local movers Glendale area knows and trusts, and ensure a swift relocation!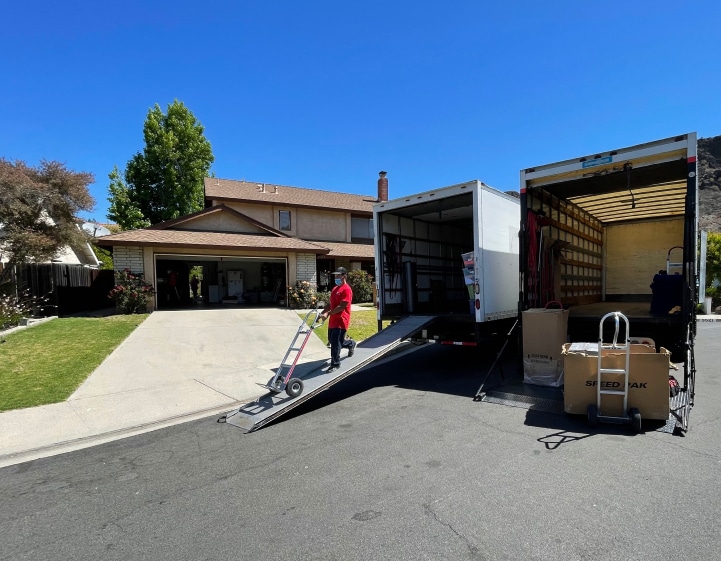 Welcome to Bravo Moving - Glendale's reputable local movers. We are dedicated to offering our esteemed clients premium relocation services. Our team of knowledgeable experts commits to making your move as easy and stress-free as possible. Local movers Glendale can assist you with your move, whether it's to a new house or office. We'll deliver your possessions to your new address safely. We offer a range of services and rely on top-notch tools and supplies. Make an appointment with us right now to plan your move and benefit from our first-rate service!
When is the assistance of our Glendale movers required?
Our Glendale movers can come in handy in a variety of situations. Our team of experienced specialists can give you the help and skills you need to ensure a smooth move. Whether you are relocating your house or business, downsizing, or growing. Our tailored approach guarantees that we understand your exact objectives and requirements, enabling us to customize our services to match them. So, when it comes to dependable and effective local movers in Glendale, you can rely on Bravo Moving.
Stress-free moving: Bravo Moving takes the load off your shoulders
We understand that relocating can be a stressful process. To prevent you from experiencing it, we provide comprehensive services to help with both commercial and residential local moves. Our trusted residential movers in CA can assist you with packing and loading your possessions. They're ensuring that your belongings are safely and efficiently delivered to your new address. We employ specialist techniques and tools to assure that your move is carried out with care and precision. We are here to help you make the experience of relocating to a new home or expanding your business as easy and stress-free as feasible. You'll have an on-time move with no unexpected delays. Also, more time and energy to put into other matters that are unrelated to your relocation while local movers Glendale team takes care of the rest!
The local advantage: Learn more about Glendale's local movers' advantages!
There are numerous advantages to hiring our trusted residential movers or commercial movers in CA. Local movers in Glendale, California can generally make your move simpler. Furthermore, more effective, and less stressful, freeing you up to focus on establishing your new residence or place of business. Several benefits are as follows:
Knowledge of the City: our local movers are better able to navigate through traffic, discover the most effective routes, and avoid any potential blockages; they have in-depth knowledge of the area;
Cost-effective: local movers are frequently more affordable than long-distance ones; our movers are situated close to you, saving you money on gas and travel time.
Service that is More Personalized: our movers offer a more individualized level of service; how? by taking the time to comprehend your particular moving requirements and configuring their services accordingly.
Quick Responding: Local movers are more likely to be available and attentive to their client's demands;  ensuring that your relocation is completed on schedule and effectively.
Peace of Mind: By hiring our local movers, you can move with confidence; move knowing that it will be handled by experts who are acquainted with the neighborhood and dedicated to providing excellent moving services.
Uncover why Glendale, California is the place to be!
The city of Glendale, CA is a well-liked tourist and local destination, due to its multicultural population, vibrant culture, and historic sites. According to the U.S. Census Bureau, this city is home to more than 192,366 inhabitants. It has a flourishing business district, multiple shopping malls, and top-notch eateries. Glendale also takes education seriously and is home to a number of highly regarded colleges and universities. The city's lovely parks, hiking trails, and picturesque San Gabriel Mountain views are perfect for nature lovers. Glendale is a great city to call home because of its pleasant temperature, welcoming residents, and limitless options for recreation and adventure.
Cost of living
The typical pay in the area, your career, and the local real estate market all impact how much it costs to live there. Compared to the national average, housing costs in Glendale are 194% higher. The monthly utility costs are 10% more expensive than the national average. Gas prices and transportation costs, such as bus fares, are 27% above the national average. Grocery costs in Glendale are 11% more expensive than those nationwide. Glendale has 12% more expensive healthcare than the national average. While it may be ideal for both couples and single people, we must agree that this region is extremely pricey.
$1,169,299 for the median home price and $3,572 for the median rent per month;
The monthly phone bill is $206.71 and the energy bill is $187.85;
Gas costs $5.53 per gallon;
A gallon of milk costs $2.47, a loaf of bread costs $3.86, and a carton of eggs costs $1.75;
A typical doctor's visit costs $132.34, a dental visit costs $113.16, and a veterinary visit costs $62.57.
How do you get access to a fantastic team of local movers in Glendale?
Basically, your particular needs and choices determine the cost of your local transfer. It's easy to contact one of our local, interstate, or long distance movers. We advise you to contact us by phone or by requesting a free moving estimate as a starting point. The optional estimate gives you a general indication of what the total cost of the project will be. With one of the best moving companies in Southern California, you will know the full cost of your relocation and there won't be any surprises.
Contact Bravo Moving for the best local movers Glendale has to offer
Look no further than Bravo Moving if you are considering a move to Glendale. Our skilled local movers Glendale offers can give you a smooth and stress-free moving journey. We are committed to making your relocation as easy as possible! From packing and loading to transferring and unloading your goods. Accordingly, we are certain that we can surpass your expectations with our commitment to great service and care for every detail. Contact Bravo Moving immediately to discover more about our solutions and why Bravo Moving is the ideal choice for Glendale local movers.
References:
GET IN TOUCH
Send Us A Quick Email