LONG DISTANCE MOVERS SAN JOSE CA
Join forces with Bravo Moving, a company that specializes in San Jose California long distance relocations. With our expertise and knowledge, we can ensure hassle-free transfers nationwide!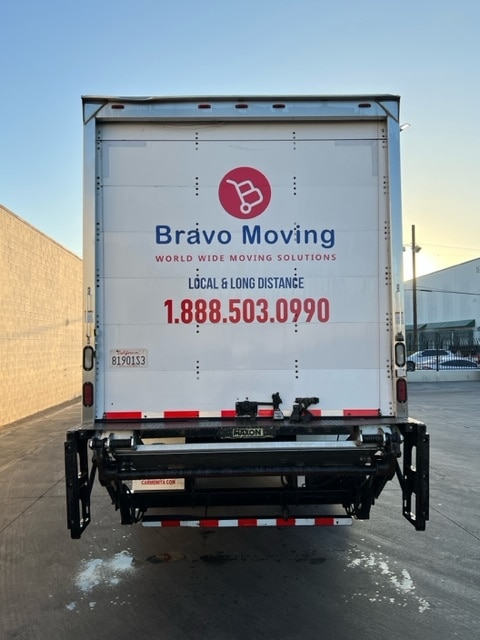 Moving across long distances can feel like preparing for a major expedition. Still, Bravo Moving – San Jose, CA's preferred moving company – can turn that colossal mountain into a manageable molehill! We combine affordability and reliability to give you a hassle-free relocation experience. So, you are ready for an epic journey of ease and efficiency where professional handling meets unparalleled value.
Bravo Moving offers comprehensive long-distance moving services in San Jose, CA. Our experienced movers specialize in handling all aspects of your long-distance move, including careful packing, secure transportation, and efficient unloading at your new destination. We prioritize the safety of your belongings and ensure a seamless transition to your new home or office. Contact us today for a free quote, and let Bravo Moving make your long-distance move stress-free and streamlined.
Exploring Long-distance Moving Services in San Jose, CA
Moving to a new place can be an exciting but daunting experience, especially when it involves a long-distance move. If you're planning a relocation in or out of San Jose, CA, you'll need the assistance of reliable and affordable long-distance movers. These professionals specialize in handling moves that extend beyond the local area, ensuring a smooth and stress-free transition. From carefully packing your belongings to safely transporting them to your new destination, long-distance movers have the expertise and resources to handle every move.
One of the key benefits of hiring long-distance movers in San Jose is Our ability to offer comprehensive moving services. Whether you're moving across state lines or even across the country, Our movers are equipped to cater to your specific needs. We understand the intricacies involved in long-distance moves and can provide personalized solutions tailored to your requirements.
Long Distance Movers San Jose CA: Reliable and Affordable Moving Services
Long-distance movers in San Jose offer specialized services for both commercial and residential moves. Whether you're relocating your business or moving your household belongings across the country, Our movers have the knowledge and experience to ensure a seamless transition.
Imagine you're a business owner based in San Jose, planning to expand your operations on the East Coast. This would involve not only packing up office furniture, equipment, and files but also ensuring our safe and timely arrival at the new location. Long-distance movers specializing in commercial moves can handle the logistics efficiently, allowing you to focus on other aspects of your business expansion.
Similarly, if you're an individual or family planning a long-distance move from San Jose to another state or even internationally, residential movers can provide invaluable support. We will carefully pack your household items, load them onto our trucks using industry-standard equipment, and transport them to your new home. With our expertise, you can have peace of mind knowing that your belongings are in safe hands throughout the journey.
Both commercial and residential moves require meticulous planning and execution. Long-distance movers play a crucial role in ensuring that the entire process runs smoothly, from start to finish.
Learn how to contact long distance movers in San Jose California
Moving to a new state or even a different country can be exciting and intimidating. It requires careful planning, coordination, and trust in the moving company handling your belongings. When it comes to long-distance moves, Bravo Moving is your reliable partner for international and interstate relocations.
For international moves, Bravo Moving has the expertise and resources to facilitate a smooth and seamless transfer to any location across the globe. We understand that relocating to a new country involves complex logistics, from customs regulations to shipping arrangements. Our team of professionals will guide you through the entire process, ensuring that your belongings arrive safely at your new home.
Let's say you're moving from San Jose, CA, to Sydney, Australia. Bravo Moving will assess your requirements, including the volume of items to be transported and any special considerations, such as fragile or valuable possessions. We will handle all necessary paperwork and collaborate with trusted international partners to ensure a hassle-free move. Whether packing, shipping, or navigating customs procedures, Bravo Moving takes care of every detail, allowing you to focus on starting your new chapter abroad.
In addition to international moves, Bravo Moving specializes in interstate relocations within the United States.
Explore Premium Long Distance Services at Affordable Prices
When choosing a long-distance moving company, several vital factors warrant careful evaluation. Making the correct choice ensures a smooth and stress-free relocation experience. Let's explore some critical aspects you should consider when evaluating long-distance movers.
One of the first considerations is the reputation and track record of the moving company. Look for reputable movers who have established themselves in the industry and have a proven history of delivering high-quality services. You can start your research by checking online reviews and testimonials from previous customers. For instance, Bravo Moving, one of the leading long-distance movers in San Jose, CA, has received numerous positive testimonials and has a high rating on Google reviews, which speaks volumes about our reliability and customer satisfaction.
Next, consider the range of services offered by the moving company. Long-distance relocations require meticulous planning and coordination, so it's crucial to choose a mover that provides comprehensive services to meet your specific needs. From packing and loading to transportation and unpacking at your new destination, ensure that the moving company can handle every step efficiently.
Professionalism and Experience
Hiring movers who exhibit professionalism and possess extensive experience is essential for a successful long-distance move. Professionalism encompasses various aspects such as punctuality, clear communication, respect for your belongings, and adherence to ethical standards throughout the moving process.
An experienced moving company will have an established system to handle every aspect of your relocation smoothly. Our expertise allows them to anticipate potential challenges, effectively mitigate risks, and provide practical solutions when unexpected issues arise during the move. Consider Bravo Moving once again – with our years of experience in the industry, we have honed our processes to perfection, ensuring a seamless and efficient Interstate move for our customers.
Furthermore, experienced long-distance movers are well-versed in handling the logistics of interstate or cross-country moves. We understand the legal requirements, transportation regulations, and documentation needed to Out of State move your belongings across state lines or internationally. This expertise gives you peace of mind, knowing that your Cross Country move is in capable hands.
Think of it like choosing a doctor for a complex medical procedure. You want someone with years of experience who is knowledgeable, skilled, and maintains the highest level of professionalism throughout the entire process.
By considering these key factors – reputation, range of services offered, professionalism, and experience – when evaluating long-distance movers in San Jose, CA, you can make an informed decision that aligns with your specific moving needs. Remember to prioritize quality and reliability to ensure a smooth and successful relocation experience.
When choosing a long-distance moving company in San Jose, CA, it's essential to prioritize factors such as licensing, insurance, and reviews. These elements serve as vital indicators of a reliable and reputable moving service.
Where Affordable Cost Meets Amazing Service
Before entrusting your belongings to any moving company, ensure we possess the necessary licenses and certifications. A licensed moving company has met specific standards and regulations set by local authorities, demonstrating our commitment to professionalism and adherence to legal requirements. Additionally, hiring an insured moving company is crucial for your peace of mind. In the unfortunate event of any accidents or damages during the move, proper insurance coverage ensures that you are protected financially.
It is always wise to research and read through online reviews and testimonials about the moving company you are considering. Look for companies with positive feedback from previous customers who have had satisfactory experiences with our services. Reliable movers often have a high rating on platforms like Google Reviews or Yelp, indicating consistent customer satisfaction.
The answer becomes clear: selecting a licensed and insured mover with positive reviews ensures that your valuable possessions will be safe throughout the long-distance journey.
When choosing a long-distance moving company in San Jose, CA, it is crucial to prioritize factors such as licensing, insurance, and reviews. A licensed mover demonstrates professionalism and commitment to legal requirements, while insurance coverage provides financial protection in case of accidents or damages. Reading online reviews from previous customers can give you insights into the reliability and satisfaction level of the moving company. These factors are critical indicators of a reliable and reputable service.
Estimating Moving Costs in San Jose, CA
When planning a long-distance move in San Jose, CA, understanding and estimating the costs involved is crucial for effective budgeting and decision-making.
The cost of a long-distance move can vary significantly based on several factors:
The distance between your current location in San Jose, CA, and the destination plays a significant role. A Cross Country move from San Jose, CA, to Los Angeles will likely be less expensive than a Cross Country move from San Jose, CA, to New York City.
The size and weight of your belongings also impact the cost. Heavier and bulkier items require more effort and resources to transport, which affects the overall price.
Additional services such as packing, unpacking, furniture disassembly, or specialty item handling may incur extra charges.
For instance, if you own a grand piano or valuable artwork that requires special care and handling during transportation, expect additional expenses.
To get an accurate estimate of your moving costs, it's recommended to obtain quotes from multiple reputable moving companies. A reliable mover will typically offer a free quote after assessing the specific details of your move. We may conduct an in-home survey or provide a virtual estimate based on your information.
Understanding how these factors influence moving costs allows you to make an informed decision when selecting a long-distance mover in San Jose, CA. By considering licensing, insurance, reviews, and estimating costs accurately, you can ensure a smooth and stress-free relocation experience.
Your Search for Reliable Long Distance Movers in San Jose California is Over
The Moving Process: What to Expect
So, you've decided to embark on a long-distance move. Congratulations! It's an exciting new chapter in your life, but it's completely understandable if you're feeling a mixture of anticipation and anxiety about the moving process. Rest assured, by understanding what to expect during this journey, you can approach it with confidence and ease.
The first step in any successful Interstate move is proper planning. Once you have finalized the logistics with your chosen long-distance movers in San Jose, CA, we will work closely with you to create a detailed moving plan tailored to your needs. This plan will outline important milestones and timelines, ensuring that every aspect of your Interstate move is accounted for. For instance, let's say your move-out date is next month. Your moving team will guide you on packing strategies and provide necessary supplies such as boxes and materials. We may even offer professional packing services if you prefer to leave that task to the experts. With our expertise, we know how to efficiently pack and protect your belongings for the long journey ahead.
On the day of the move, the designated team of movers will arrive at your current residence promptly, ready to tackle the loading process. We will handle each item carefully, utilizing appropriate equipment and techniques to ensure safe transportation. As experienced professionals, we are well-versed in efficiently maneuvering even large or delicate items through narrow hallways or staircases.
Once everything is loaded onto the truck, it's time for your items to hit the road en route to your new home. Throughout the transit phase of the move, you can rely on your chosen long-distance movers to keep you updated on the progress of your shipment. Open lines of communication allow for peace of mind as you eagerly anticipate the arrival of your belongings.
Upon reaching your destination, the team will carefully unload all items and place them in our designated rooms according to your instructions. This attention to detail ensures that the unpacking process is as organized and effortless as possible. If needed, furniture assembly services can also be provided to help you quickly settle into your new space.
The moving process may seem daunting, but with the support of reliable and experienced long-distance movers in San Jose, CA, you can rest assured that your belongings will be handled with care at every step. Our commitment to professionalism and customer satisfaction will make your transition smooth and seamless.
Moving can be an overwhelming experience, but remember that you're not alone in this journey. Your chosen long distance movers are here to assist and guide you throughout the process. Trust in Our expertise, lean on Our support, and soon enough, you'll be enjoying the excitement of settling into your new home.
GET IN TOUCH
Send Us A Quick Email