COMMERCIAL MOVERS GLENDALE
Our commercial movers in Glendale CA will ensure a fast and efficient relocation of your business.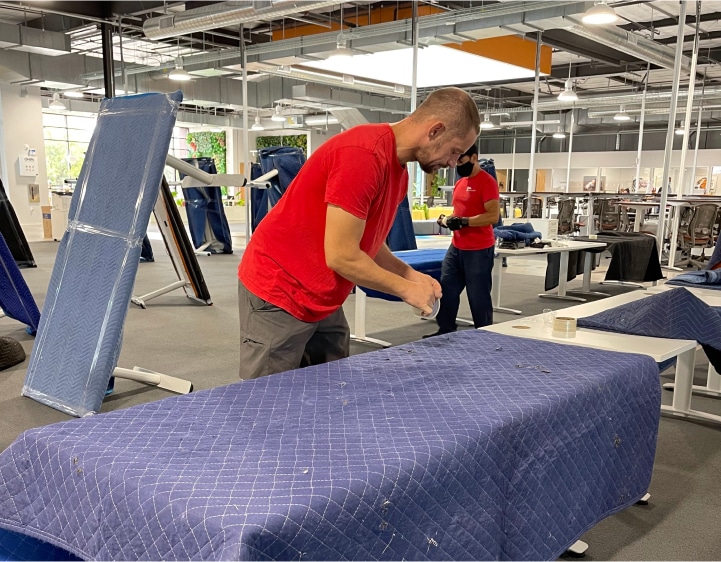 While many of us will think about moving our home to another location, moving your business is something completely different. It involves more risk and more planning because your entire company is at stake. Since Bravo Moving specializes not only in residential but commercial moving as well, we are the ones you can trust! In our long moving history, we helped many people move or expand their businesses to Glendale or from Glendale, and we will gladly do the same with yours. Get ready to give us a call once we tell you how exactly our commercial movers Glendale CA area trusts can help you complete your move!
Our commercial movers from Glendale CA can provide all services you need!
Every type of relocation needs certain services so that you can be under less pressure while the process lasts. We carefully designed ours so that they cover every aspect of your move, no matter where you go or if you are moving your home or office. Our clients are released from moving hard items, loading them into trucks, and then transporting them to a new location. We arrive on time and immediately set things into motion! Once you hire us you can count on:
Why do you need our help when moving our office?
Just like your home and your office are not the same place, commercial moving in CA is much different than residential one. There are always more people involved and the inventory is not the same. But above all of that, time plays a much different role when you are moving your business.
Our team will not let your clients and partners wait for too long, which is essential. In fact, you don't even have to pause your business for that long when moving with us. We know exactly what to focus on, including setting up your I.T. department on time and suggesting a suitable date for moving. You and your employees will have a lot of other tasks before and after moving, so you will have all the space you need to focus on doing them.
How to hire us?
To make sure we carry out your relocation, all you need to do is let us know where would you like to go and provide your inventory list. After that, you and your team can relax and focus on advertising your business at the new location. On our official website, you can receive a free moving estimate and get a better insight into the total cost of your relocation. We only need a couple of details including both locations.
Our company perfectly understands how important your time and money are during moving. Because of that, there will be no hidden fees when moving with us and the price will be made according to your needs. Once you know how to organize your budget, you will be able to work on your future expenses as well!
Glendale: California's business and financial giant
Famous for its amazing neighborhoods and universities, Glendale is surely a place you should consider to be your home. It has all the traits a big city should have and is very suitable for both the young and elderly. When it comes to business, it seems like Glendale has it all! Higher living costs of 192.7/100 are supported by a stable economy, and even those who came looking for a job manage to land a good one. This is mainly because this city is very diverse and offers job opportunities for many professions. Tourism may be the leading field, while medicine and education follow!
As of December 2022, the unemployment rate in Glendale is lower than it used to be. It holds 4.20% but in March the numbers were much higher, to be specific 5.5%. Glendale is now offering a chance to its younger residents to focus on starting small businesses which is making them explore areas like craft-making, tech, and much more. But the most popular professions in the city are:
Sales associate
Cashier
Customer service representative
Administrative assistant
Internship
Receptionist
Biggest employers in Glendale
Once our commercial movers Glendale CA based finalize your relocation, you will have to focus on finding new clients and partners. Luckily, you will get plenty of them in Glendale as some of the biggest companies in the USA have their headquarters there. They offer stable jobs and good incomes to not only residents but people from neighboring towns and townships. Depending on what field your company is related to, you should start exploring your options on time. According to official statistics the biggest employees in Glendale include:
IHOP - American multinational restaurant chain
Avery Dennison - Company producing pressure-sensitive materials
Applebee's - Bar and grill restaurant chain
RepoKar- Selling car at an auction
Way before our Glendale movers arrive to load your equipment, start advertising your services to people in the city. Everyone loves welcoming something new into their city, and we will gladly provide you the time to do so. Even if you already have some connections there, let us help you get there just in time to present your services to everyone!
Call us and commercial movers from Glendale CA will be on the way!
To successfully move your business all you need to do is to get in touch with us! Bravo Moving will send out a team of professional and skilled movers to transport all of your office furniture and equipment. While the process lasts, feel free to ask us anything as our commercial movers Glendale CA based have enough experience to answer them all. And even if you had a chance to move before, leave it to us, as now is the time for you to enjoy your relocation. We will make sure to help your business grow bigger by providing professional services and a piece of good advice!
References:
https://www.bestplaces.net/cost_of_living/city/california/glendale
https://www.zippia.com/company/best-biggest-companies-in-glendale-ca/
https://www.zippia.com/answers/what-are-the-most-common-jobs-in-glendale-ca/
GET IN TOUCH
Send Us A Quick Email