LONG DISTANCE MOVING
Join forces with Bravo Moving, a company that specializes in long distance relocations. With our expertise and knowledge, we can ensure hassle-free transfers nationwide!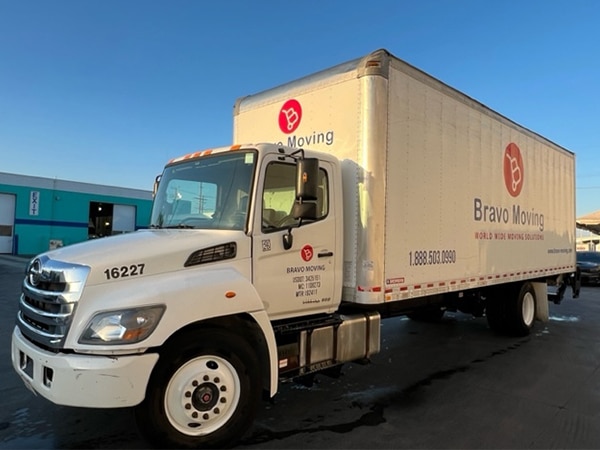 According to statistics, California ranks as the second state in the country for the number of outgoing moves. The infamous exodus started with the pandemic in 2020, and there are no signs of it slowing down. Whether you are moving to or from California, it is not a task you should take lightly. Due to the nature of long distance moving, many challenges can arise. Hiring professional movers will make the entire process easier. Bravo Moving is here to provide support and assistance on your journey. As one of the long distance movers California residents recommend the most, we know the ins and outs of moving in and out of state. If you are ready to take the next step, contact us today for a free quote!
Discover how Bravo Moving can help with your next moving adventure
We cannot deny that The Sunshine State is full of opportunities. Los Angeles is a city that will not leave you disappointed. Whatever you are looking for, someone is offering it. There are plenty of local moving companies in California who could transport your belongings from point A to point B. But you do not want just any company to handle this once-in-a-lifetime event. With Bravo Moving, you are getting a team of premium long distance movers in California. Our moving crews are capable of handling almost all moving tasks.
Back when we first started, it would be unbelievable to imagine Bravo Moving would become one of the most prominent long distance moving companies in CA. Throughout the years of working in California, our movers have seen countless people come and go. We helped many families with our residential moving services.
The world of commercial moving is not foreign to us either. Professional movers and packers will ensure your business experiences minimal downtime. If you wish to give us a chance, we are ready to be your partner in the world of moving.
Learn how to contact long distance movers in California
Moving can oftentimes seem overwhelmingly complicated. Even more so when it comes to interstate moving. Issues are more likely to happen the bigger the distance. As one of the premier long distance moving companies California has to offer, we can successfully streamline the process.
The way it works is simple. You can give us a call or fill in the short form on our website. The estimate is free and non-obligational. Next, you will give us some details about your move. The location, type, and number of rooms. It is important that you get in touch in advance so that we have sufficient time for planning. After this, all you need to do is patiently wait for the moving day. Our competent teams will take care of everything from supplies to preparing and loading your items. If you have any questions throughout the move, we will do our best to answer them in a timely manner.
Explore premium services at affordable prices
To put it in simple terms - our professional movers are capable of handling your entire move from start to finish. From offering storage services to assisting in military moving, Bravo Moving is here for you. Equipped with modern tools and techniques, expect only the best from your relocation. As a licensed and insured company, we take every job seriously. No matter how big or small. Our customer service team will ensure clear communication and resolve any of your concerns.
More importantly, we strive to keep our prices affordable. We do not want to exclude those with a limited budget. This has been one of our main goals from the very start. Moving across the country is expensive as is - and hiring international movers California offers costs even more. We do not want to burden our clients with more stress in an already stressful time. From piano moving to senior moving services, our rates remain approachable.
California exodus and trends long distance movers noticed in recent years
It is no secret that the state is losing residents in huge numbers. The Golden State is not doing well in general. According to a report from the California Department of Finance, 249,239 people left California in search of a better life. Here at Bravo Moving, we noticed this trend as well. As one of the most experienced long distance movers in California, we have been doing more and more outbound moves each year. We even helped with some international moving projects, as well.
The most recent data from U.S. Census Bureau shows the top destinations for Los Angeles citizens are:
Phoenix, AZ
Las Vegas, NV
San Diego, CA
Dallas, TX
San Bernardino Metro Area
It is important to note that people have not stopped moving to California. Los Angeles is still the center of the entertainment industry, so there will always be newcomers. In 2021, some 14000 people moved to California from abroad. Around 4000 of them chose LA as their new home. Within the United States, new migrants are coming from the Chicago metro area, the New York metro area, and Boston, IL.
Your search for reliable long distance movers in California is over
If you are planning to leave CA or Los Angeles for good, Bravo Moving is at your service. We dive into every project with the same drive and passion we had when we started the business. You can rest easy knowing your relocation is in the hands of trusted long distance movers California residents recommend. Our local teams know the areas like the backs of their hands. They can provide help every step of the way. From the planning stages to unpacking boxes in your new home, we are here for you. Do not hesitate to contact us and hire professional help for your next move.
GET IN TOUCH
Send Us A Quick Email