MOVING SUPPLIES GLENDALE
With the right moving supplies in Glendale, your move is bound to be a sucess.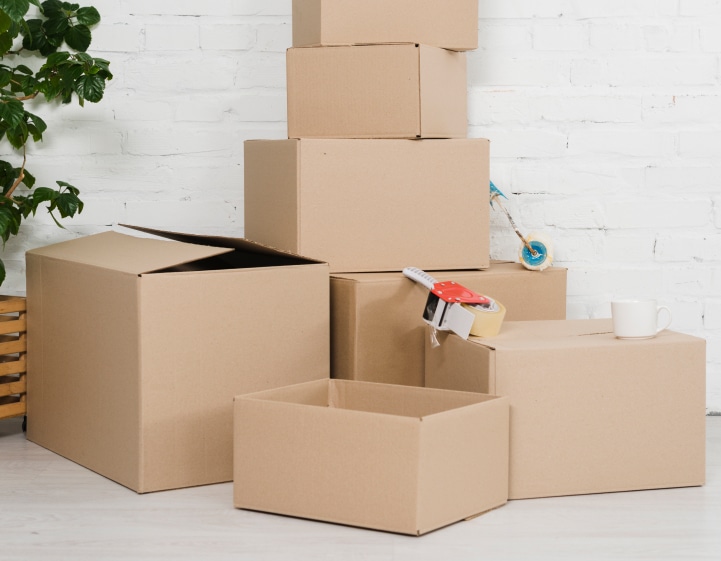 When packing for a relocation, having the right equipment is of utmost importance. Although it may seem less relevant, it is quite the opposite. With high-quality moving supplies, your moving endeavor will seem less strenuous than you imagined. Our moving supplies Glendale offers are of the best quality and guarantee stress-free packing and moving. Whether you are moving locally or long-distance, you always need durable packing supplies. And if you are unsure what packing material your relocation requires, professional and knowledgeable staff will help you with a piece of advice. For the best-quality moving supplies contact Bravo Moving and ensure a smooth packing process. Get in touch with us and secure the best deal for your relocation.
About Bravo Moving - meet some of the best LA county movers
Bravo Moving is an award-winning company with full-service moving solutions. We boast exceptional reviews on Google from satisfied customers. When it comes to moving supplies, we make sure to offer only the best packing material to the people who entrust us with moving their possessions. Our professional movers excel at many moving-related services and are always available to organize pickups anywhere in the country, with nationwide service that covers all 50 states. If you seek the most reliable movers in Los Angeles County, then Bravo Moving is the right choice. We are here to adapt our services to the specific needs of your relocation.
Apart from offering first-class moving supplies Glendale residents need, we also deal with other services to facilitate your relocation:
The perks of using moving supplies Glendale offers
Reputable companies pay close attention to every detail in order to make sure they provide top-notch service. Our trusted residential movers are no exception to this rule. When performing a DIY relocation, a lot can go wrong. You may end up with used or faulty packing supplies, or an inadequate number of boxes, or you may buy too much packing material and spend more money than necessary. However, if you choose moving supplies Glendale movers provide, you can rest assured your items will be safely packed.
Moving supplies you can get from Glendale movers
Professional movers possess the right tool, equipment, know-how, and vast experience, and are able to advise you on every aspect of relocation and perform it flawlessly for you. The best movers and packers Glendale offers present you with a variety of packing materials:
Moving boxes - the most important piece of moving supplies Glendale movers offer. It is important that our customers can choose from a variety of sizes, as various items require various sizes of boxes. Fragile items are usually packed in small boxes, so they are easier to carry and less prone to damage. On the other hand, things like clothes should go into bigger boxes.
Wardrobe boxes - these are very practical moving supplies, as they include hangers, so you will not need to waste any team ironing when you move into a new home. They are very sturdy and it is easy to pack and unpack clothes when using these boxes. Also, for better protection of your precious and expensive clothes, you can cover your clothes with a bag. Remember that about 20-30 hangers can fit on one bar in a wardrobe box, which makes this piece of packing material ideal for packing clothes.
Labels and markers - Labelling boxes is very important. Your movers should be aware of which boxes contain fragile items, so they can treat them with special care. Our labels are visible and contribute to safe loading and unloading.
Packing peanuts and blankets - ideal material for bulky and fragile items. Packing peanuts will fill in the void between plates and glasses inside a box, so they don't clank against each other. Blankets are used to cover bulky items to avoid damage.
Packing paper - don't worry about how to protect the inside of boxes, because we have a solution. We offer high-quality packing paper and bubble wrap that will facilitate the packing process to a great extent.
No more heavy lifting
We've got you covered with heavy lifting with our newest moving supplies such as:
Hand trucks - you won't have to lift a finger when using various hand trucks that can carry up to 500 pounds
Dollies - make your moving process easier by obtaining the best packing material Glendale can offer.  A variety of dollies is available at Bravo Moving to cater to the needs of your type of relocation.
Straps and tie-downs - these are very helpful when transporting your items in a vehicle.
How the moving process works
Choosing to handle the moving process on your own might be very stressful. However, getting in touch with professional movers from Bravo Moving can save you both time and unnecessary costs. Obviously, hiring a professional moving company to handle your relocation, pack your boxes, or just supply you with the packing material is the best solution if you have any doubts about how to best handle the relocation. And the process of hiring us is very simple. Fill out our quote form, state your moving requirements, and we will get back to you with a moving quote. Our Glendale packers and movers will inspect your home and provide you with a final solution for the packing materials you need.
Welcome to the city of Glendale
This town in San Fernando Valley is home to 196,000 residents. Besides the Museum of Neon Art and Brand Park trails, the city of Glendale is also known for a famous street packed with a variety of retailers called Brand Boulevard. The proximity of Downtown LA offers great job opportunities for Glendale residents. All in all, this is a city of great opportunities that also offers a variety of exceptional services.
Contact us
If you want to move your household items like a pro, then all you need to do is book reliable movers. Call us and request a free estimate of your belongings, and the polite staff will give you a complete overview of what your costs may be. If you are only interested in getting the top moving supplies Glendale offers, you can just call and order whatever you need.
GET IN TOUCH
Send Us A Quick Email