LONG DISTANCE MOVERS SAN DIEGO CA
Join forces with Bravo Moving, a company that specializes in San Diego California long distance relocations. With our expertise and knowledge, we can ensure hassle-free transfers nationwide!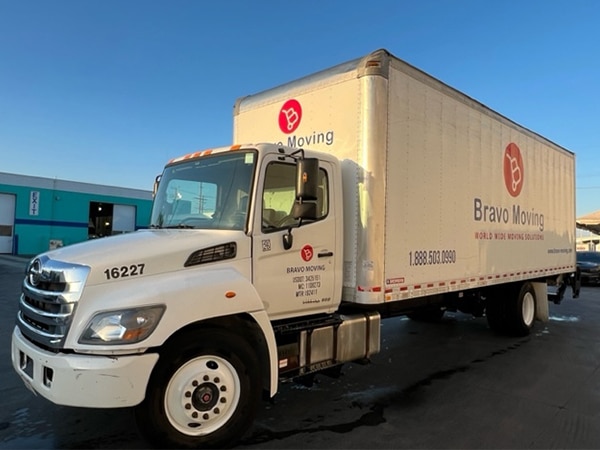 With the ever-dynamic lifestyle of San Diego, moving from one coast to another may be coming up soon for you and your family. But who can you trust with your cherished family heirlooms, painstakingly selected furniture, or priceless art pieces over thousands of miles? Meet Bravo Moving – your reliable long-distance mover in San Diego, CA. Noted for our professional, affordable services, we streamline your moving process, making it a stress-free and pleasurable experience. Countless Californians entrust their cross-country moves to us every year!
Bravo Moving offers comprehensive long distance moving services in San Diego, CA. Our experienced team of movers specializes in planning and executing long distance relocations with efficiency and care. We handle all aspects of the move, including packing, loading, transportation, and unloading to ensure a stress-free experience for our customers. Contact us today for a free moving estimate and let us help you with your long distance move in San Diego!
Discover why Bravo Moving is the Top Long Distance Mover in San Diego CA
When it comes to long-distance moves, finding a reliable and trustworthy moving company is crucial. Fortunately, San Diego, CA, is home to Bravo Moving, who can make your relocation as smooth and stress-free as possible.
With our commitment to exceptional customer service and extensive experience in the industry, We have earned a reputation as one of the top long-distance movers in San Diego. We understand the unique challenges of long-distance moves and have tailored our services to ensure a seamless transition for our clients.
For instance, imagine you're planning a move from San Diego to New York. We will handle every aspect of your move with utmost care and professionalism. From packing your belongings securely to coordinating logistics and ensuring timely delivery, we go above and beyond to meet your expectations.
With our team of highly trained professionals, Bravo Moving offers reliable and efficient moving solutions for long-distance relocations. We prioritize customer satisfaction and work closely with clients to create customized moving plans catering to your needs.
When choosing a top long-distance mover in San Diego, it's essential to consider factors such as experience, positive customer reviews, affordability, and availability of additional services like packing and storage options. These reputable companies tick all the right boxes, ensuring a smooth and hassle-free move.
Learn how to contact long distance movers in San Diego California
According to a survey by the American Moving & Storage Association, approximately 35% of all moves in 2020 were interstate, emphasizing the need for quality long distance movers.
In San Diego County alone, there was a nearly 10% increase in requests for moving services between 2019 to 2021 according to industry data, showing a growing demand for reliable moving services.
Based on Better Business Bureau records, less than 5% of all complaints submitted about moving companies in San Diego during 2020 were related to established and reputed long distance moving services.
Choose Bravo Moving For San Diego Cross-Country Moves
Bravo Moving exemplifies excellence through its commitment to professionalism, attention to detail, and personalized services. We understand that each move is unique and strive to exceed expectations at every step of the process.
One distinguishing factor of Bravo Moving is its extensive experience in the industry. We have successfully handled numerous long-distance moves and have honed our skills to ensure efficient and secure transportation of belongings.
Bravo moving prioritize customer satisfaction and go the extra mile to provide exceptional service. We have a team of highly trained and friendly movers who understand the stress that comes with relocating and work diligently to alleviate any concerns.
Explore premium Long Distance Services at affordable prices
When it comes to long-distance moves, one of the common concerns that people have is the cost involved. However, reliable long-distance movers in San Diego, CA understand the importance of providing affordable services without compromising on quality. Our movers strive to offer cost-effective solutions that cater to the specific needs and budgets of their clients.
How exactly do our long-distance movers ensure affordability? Firstly, we provide transparent and detailed pricing structures. This means that you won't be hit with any hidden fees or surprises along the way. We will provide you with a comprehensive breakdown of all costs involved, allowing you to plan your budget accordingly.
Additionally, these professional movers often offer customizable packages that suit different requirements. You can choose from a range of services depending on your budget and preference. Whether you need assistance with packing, loading and unloading, temporary storage, or even a full-service solution, you can find options that align with your financial capabilities.
For instance, let's say you are moving from San Diego to Los Angeles and you're on a tight budget. Our Reliable long-distance movers may offer an option where you handle the packing yourself, while they take care of the transportation and unloading at your new location. This can significantly reduce the cost while still ensuring a smooth and efficient moving process.
Our movers often have partnerships and affiliations with other service providers such as truck rental companies or storage facilities. This allows us to negotiate better prices on your behalf or offer bundled packages that further enhance affordability.
Where Affordable Cost Meets Amazing Service
While affordability is crucial when selecting our long-distance movers, it's also essential to strike a balance between cost and quality.
When it comes to choosing long-distance movers in San Diego, CA, it's essential to consider not only the affordability but also the quality of services provided. How do you strike the right balance between cost and quality?
It's important to remember that your valuable belongings are at stake during the moving process. Opting for the cheapest possible option may result in subpar service, potential damages, or delays. However, paying exorbitant prices doesn't guarantee exceptional service either.
To find the optimal balance, start by doing some research and reading reviews about different long-distance moving companies. Look for testimonials from previous customers who have experienced their services firsthand. This can provide insight into the level of professionalism and care they offer.
It's also worth noting that reputable long-distance movers often invest in training their staff and utilizing advanced equipment, ensuring that your belongings are handled with care throughout the journey. This attention to detail and commitment to professionalism can have a significant impact on the overall quality of your moving experience.
Finding reliable long-distance movers that offer affordable services while maintaining high-quality standards requires a balanced approach. Consider your budgetary constraints without compromising on the safety and security of your belongings.
Professionally Trained Movers
5-Star Google Rating
Free In Home Estimate
Guaranteed Pricing
Fully Licensed and Insured
We are familiar with the challenges that arise during long-distance moves and have the necessary strategies to overcome them. From coordinating transportation to managing multiple pick-up and drop-off locations, these movers have mastered the art of streamlining the entire process.
Let's say you have fragile items like antique furniture or precious artwork that require special care and handling. Our Professional movers have the experience and expertise to pack these delicate items safely using custom packaging materials and techniques. This helps minimize the risk of damage during transport.
Your search for reliable long distance movers in California is over
Our reputable long-distance movers are often equipped with advanced tools and equipment to facilitate efficient loading and unloading processes. We know how to maximize space in moving trucks while ensuring proper weight distribution for safe transportation.
Hiring experienced long-distance movers also offers additional peace of mind knowing that your belongings are insured against loss or damage during transit. In the unlikely event that something goes wrong, you can rest assured that you will be compensated for any damages incurred.
Efficiency and professionalism are two essential qualities to look for when hiring long-distance movers. A reputable company will prioritize these aspects to ensure a smooth and hassle-free moving experience for Your clients.
When it comes to efficiency, our experienced long-distance movers have honed their processes through years of practice. We have developed techniques to optimize every step of the moving process, from packing and loading to transportation and unloading. Their goal is to complete your move in a timely manner without compromising on the safety of your belongings.
By utilizing efficient packing methods, such as sorting items by category or room, experienced movers can expedite the unpacking process at your new destination. This means less time spent searching for essentials and more time settling into your new home.
Imagine arriving at your new residence after a long-distance move, only to find that all your boxes are disorganized and jumbled together. With professional movers who prioritize efficiency, you can expect a well-organized system where each box is clearly labeled and placed in its designated area. This organized approach saves you valuable time and effort during the unpacking phase.
In addition to efficiency, professionalism is crucial when entrusting your belongings to a moving company. Professional long-distance movers exhibit a high level of respect, transparency, and communication throughout the entire moving process.
For example, we will provide clear documentation outlining the terms of service, including pricing details and any additional fees involved. We will also communicate effectively with you regarding the pickup and delivery schedule, ensuring that you are well-informed at every stage.
GET IN TOUCH
Send Us A Quick Email