LONG DISTANCE MOVERS SACRAMENTO, CA
Join forces with Bravo Moving, a company that specializes in Sacramento California long distance relocations. With our expertise and knowledge, we can ensure hassle-free transfers nationwide!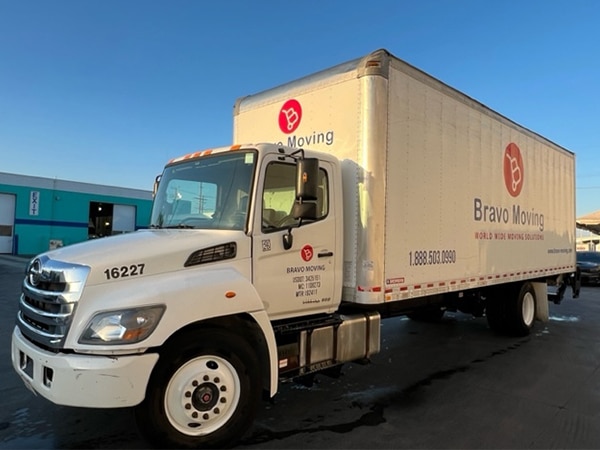 With Bravo Moving Company, relocating from coast to coast is no longer a stressful ordeal. Our long-distance moving services transform the intricate process into a surprisingly seamless experience. Buckle up for our roadmap of affordable cross-country relocation and discover how we can turn your challenging Interstate move into an efficient journey packed with peace of mind, knowing your precious possessions are in experienced hands.
Bravo Moving offers reliable and professional long-distance moving services in Sacramento, CA. Our team of trained movers ensures the safe and efficient transportation of your belongings to your new destination, whether within California or across state lines. With our expertise and competitive prices, we strive to make your long-distance move as seamless and stress-free as possible.
Sacramento, CA Long Distance Movers: Affordable Cross-Country Relocation Services
Moving long distances can be an exhilarating yet daunting experience. Whether relocating for a new job, pursuing educational opportunities, or simply seeking a change of scenery, it's essential to have a comprehensive understanding of the process and considerations involved. In Sacramento, CA, numerous factors come into play when planning a long-distance move. From selecting the right moving company to understanding logistics and costs, proper preparation is critical.
One of the first steps in moving long distance is finding a reliable and trustworthy moving company. Look for movers who specialize in long-distance relocations and have experience in handling moves from Sacramento, CA, to various destinations across the country. Reputation and customer reviews are crucial indicators of a reputable moving company, so research and compare options.
For instance, at Bravo Moving we are a highly regarded moving company that offers quality and affordable services for long-distance moves in Sacramento, CA. With our track record of completing cross-country moves and positive testimonials from satisfied customers, we can provide the expertise needed to ensure a smooth relocation experience.
Once you have chosen a moving company, it's essential to plan the logistics of your move. Determine your moving date and discuss any specific requirements or restrictions with your chosen moving company and any building management or homeowners associations at your current and future locations. This will help avoid any potential conflicts or delays during the moving process. Next, consider the cost implications of your long-distance move. Factors such as distance, volume of belongings, additional services required (such as packing or storage), and any specialized items that need to be transported may impact the overall cost. Request a detailed quote from your chosen moving company to get an accurate estimate of expenses. Lastly, adequate preparation is essential when moving long distances. Start by decluttering and organizing your belongings well in advance to minimize unnecessary items being moved. Create an inventory list to keep track of your possessions, and consider taking photos or labeling boxes for easy reference upon arrival at your new destination. It's also a good idea to notify relevant parties, such as utility companies and postal services, of your address change.
According to a study by the American Moving & Storage Association (AMSA), there are more than 7,000 licensed and insured moving companies in the U.S., with many of these offering services in California, including Sacramento.
In 2018, AMSA reported that the average cost of an interstate move was about $4,300, based on an average weight of 7,400 pounds and a distance of about 1,225 miles.
The Federal Motor Carrier Safety Administration (FMCSA) reported that in 2020, over 35 million Americans moved residences – this indicates that demand for long-distance moving services is considerable.
Learn Why Bravo Moving is Your Best Option For Long Distance Movers in Sacramento California
Long-distance relocations offer exciting opportunities for personal growth and new experiences. Whether you're seeking better career prospects, a different lifestyle, or want to explore new surroundings, there are several compelling reasons why you might choose to embark on a long-distance move from Sacramento, CA.
One common reason is career advancement. Moving to a different city or state can open doors to job opportunities that may not be available in your current location. It allows you to broaden your professional network, access industries with higher skill demand, and potentially earn a higher income. By embracing the challenge of a long-distance move, you position yourself for potential growth and advancement in your career.
Another factor that often drives individuals and families towards long-distance relocations is the pursuit of education. Whether attending a prestigious university or pursuing specialized training programs, moving to a different city or state can provide access to educational institutions renowned for our academic excellence. This can enhance your learning experience and help you develop valuable connections within your field of interest.
For instance, imagine having the opportunity to pursue a master's degree in business administration at a top-ranked university located across the country. While the thought of relocating might initially seem daunting, the potential benefits of education and future career prospects make it an enticing option worth considering. People often seek new experiences and a change of scenery as motivations for long-distance relocations. Exploring different cultures, climates, and landscapes can be invigorating and enriching. It offers the chance to immerse yourself in new communities, make diverse connections, and broaden your perspectives on life. The thrill of discovering unfamiliar places and embarking on adventures is an appealing aspect of long-distance moves for many adventurous individuals.
Imagine the excitement of waking up in a completely different city, ready to explore all the hidden gems and embrace a new way of life. From trying local cuisines to visiting famous landmarks, every day becomes an opportunity for discovery and personal growth..
Explore premium Long Distance Services at Affordable Prices
When it comes to long-distance moves, finding quality and affordable movers is of utmost importance. In Sacramento, CA, there are trusted moving companies that offer exceptional services at reasonable prices. These movers prioritize customer satisfaction and strive to make the relocation process as smooth and stress-free as possible.
One such company is Bravo Moving. With our years of experience in the industry, Bravo Moving has gained a strong reputation for being reliable and affordable. Our commitment to excellence is evident in the positive testimonials we have received from satisfied customers. From our attentive communication to our meticulous belongings handling, Bravo Moving ensures that every Out of State move is executed with utmost care and professionalism.
Affordability is often a concern for those planning a cross-country move. However, Bravo Moving offers competitive prices without compromising on the quality of our services. Our pricing structures are transparent, allowing customers to understand precisely what we are paying for.
For instance, long-distance moves with Bravo Moving start at just $399. This includes professional packing, loading, transportation, unloading, and even furniture assembly if needed. Our company provides complimentary materials such as moving blankets and shrink wrap to protect delicate items during transit.
Apart from affordability, another crucial aspect to consider when choosing movers in Sacramento is the insurance coverage provided. Bravo Moving understands the value of your belongings and offers comprehensive insurance options to ensure that you are protected throughout the journey.
Bravo Moving provides a comprehensive range of moving services to cater to the diverse needs of Our customers. Whether you are planning a residential move, a commercial relocation, or even an international move, we have you covered.
For residential moves, Bravo Moving offers everything from packing and loading to transportation and unloading. Our team of experienced movers handles your belongings with utmost care, ensuring that each item arrives at your new home safely. We understand the emotional attachment people have to Our possessions and prioritize the well-being of Our cherished items.
Where Affordable Cost Meets Amazing Service
You're moving from Sacramento, CA, to New York City. Bravo Moving handles all the logistics involved in such a long-distance move. From coordinating transportation to managing any necessary storage, we ensure that every aspect is carefully planned and executed.
In addition to residential moves, Bravo Moving also specializes in commercial relocations. We understand that moving a business requires careful planning and minimal downtime. With our expertise, we can efficiently handle office furniture, equipment, and sensitive documents while ensuring a smooth transition for your company. Bravo Moving offers international moving services for those embarking on a new journey abroad. From navigating customs requirements to coordinating logistics across countries, we take care of the complexities involved in an international move so that you can focus on starting afresh in your new destination.
With our exceptional range of services and commitment to customer satisfaction, Bravo Moving stands out as a top choice for quality and affordable movers in Sacramento.
Bravo Moving offers a wide range of moving services, including Out of State move, Interstate, and international moves. We prioritize the safety and care of our customers' belongings, ensuring that each item arrives at its new location in good condition. For long-distance moves, Bravo takes care of all the logistics involved, from transportation coordination to storage management. We specialize in commercial relocations, understanding the importance of minimal business downtime. Bravo also offers international moving services, handling customs requirements and logistics across countries. With our exceptional range of services and commitment to customer satisfaction, Bravo Moving is a top choice for quality and affordable movers in Sacramento.
Preparation for a Long-Distance Move
Embarking on a long-distance move requires careful planning and preparation to ensure a smooth and successful transition to your new location. Imagine moving from Sacramento, CA, to New York City, NY – the distance, logistics, and potential challenges can be overwhelming without proper preparation. Here are some critical steps you should consider when preparing for a long-distance move.
First and foremost, it's crucial to create a detailed timeline for your move. Start by determining your moving date and work backward, setting milestones for tasks such as packing, hiring movers, notifying utilities, and changing addresses. By having a clear plan, you can tackle each task systematically, reducing the likelihood of last-minute stress.
Next, decluttering your belongings is essential before a long-distance move.
Once you've identified the items you'll bring, it's time to start packing strategically. Begin by gathering high-quality packing materials such as sturdy boxes in various sizes, bubble wrap, packing paper, tape, and markers for labeling. Organize your belongings by category or room to make unpacking easier at your destination. Remember to label each box with its contents to prevent confusion later on.
Choose Bravo Moving For Your Sacramento CA Long Distance Move
When moving long-distance, certain essential items and considerations can significantly contribute to a smooth and comfortable relocation experience. These can help you stay organized, prepared, and stress-free throughout the journey.
One of the essential items is a well-organized moving binder or folder. This should contain all your important documents, such as lease agreements, moving contracts, inventory lists, contact information for movers and utilities, and any other relevant paperwork. Having easy access to these documents will save you time and effort during the move, especially if you need to refer to them along the way.
Another consideration is making arrangements for transportation and lodging. If you're driving to your new destination, ensure your vehicle is in good condition by scheduling a maintenance check-up before hitting the road. If flying or using alternative modes of transportation, book your tickets well in advance and consider any necessary accommodation arrangements for overnight stays.
It's also important to plan for the essentials during the journey itself. Just like packing snacks and entertainment for a long road trip, pack enough food, water, and necessary supplies for yourself and any family members or pets traveling with you. This will help keep everyone comfortable and content throughout the journey.
Lastly, don't forget about insurance coverage for your belongings during a long-distance move. Consult with your moving company or insurance provider to ensure that you have adequate coverage in case of any unforeseen incidents during transit.
With these essential items and considerations in mind, you'll be better equipped to tackle your long-distance move with confidence and ease.
Ensuring Safe Transportation of Your Belongings
Moving to a new location, especially across long distances, can be a daunting and stressful task. One of the primary concerns during this process is ensuring the safe transportation of your belongings. After all, these items hold sentimental value and may even represent a substantial financial investment. To alleviate your worries and ensure a smooth moving experience, it is crucial to take certain precautions when entrusting your possessions to Sacramento, CA, long-distance movers.
First and foremost, it is essential to choose a reputable moving company like Bravo Moving that prioritizes the safety and security of your belongings. Look for a company that is licensed, insured, and has positive customer reviews. This will give you peace of mind, knowing that your items are in capable hands.
Once you have selected a reliable moving company, communication becomes critical in ensuring the safe transportation of your belongings. Provide detailed instructions to the movers regarding any fragile or valuable items that require special handling. It may be helpful to create an inventory list and label boxes accordingly. Clear communication will help the movers understand the importance of specific items and take necessary precautions.
In addition to clear communication, proper packing techniques play a significant role in protecting your belongings during transit. Use high-quality packing materials such as sturdy boxes, bubble wrap, packing paper, and furniture blankets to safeguard your items from potential damage. Ensure that fragile items are wrapped individually and securely padded within boxes. Properly seal all boxes to prevent shifting during transportation.
Furthermore, consider disassembling any large furniture pieces to make them easier to handle and transport safely. Keep track of small parts such as screws or bolts by placing them in labeled bags or containers and securing them to the corresponding furniture piece. This will help ensure that all components are accounted for upon arrival at your new destination.
Let's say you have delicate artwork or mirrors that require extra care during the move. Consider custom crating or specialized packing materials such as mirror boxes to provide protection. These measures will help minimize the risk of damage to these fragile items and give you peace of mind throughout the relocation process.
When loading your belongings into the moving truck, strategize the placement to prevent shifting and potential damage during transit. Heavier items should be packed first, with lighter and more delicate items carefully placed on top. This organization will help distribute weight evenly within the truck and reduce the likelihood of items falling or becoming damaged during transportation.
Finally, once everything is packed and loaded, consider purchasing additional moving insurance for extra protection. While reputable movers have our insurance policies, having supplemental insurance ensures that you are fully covered in case of any unforeseen circumstances.
By following these steps and precautions, you can significantly increase the chances of ensuring the safe transportation of your belongings during a long-distance move. Remember that careful planning, clear communication with your chosen moving company, proper packing techniques, strategic loading, and additional insurance contribute to a successful and worry-free relocation experience.
GET IN TOUCH
Send Us A Quick Email