LOCAL MOVING
Team up with professional local movers California residents recommend time and time again.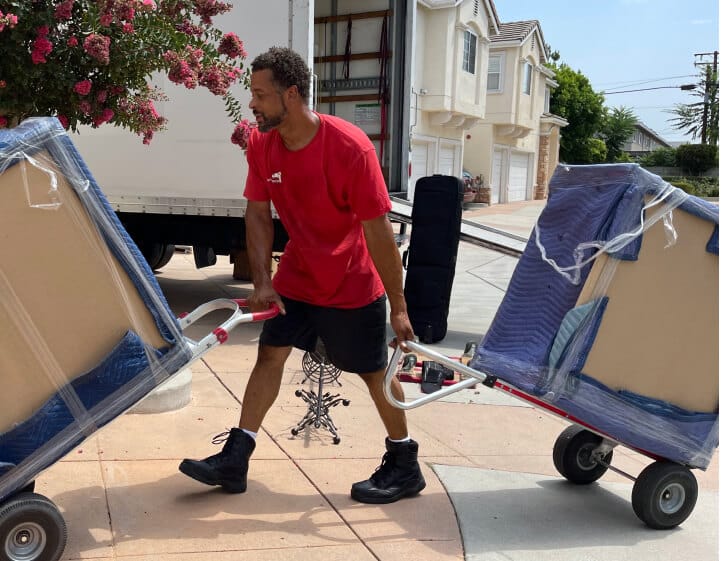 Local moving endeavors seem like an easy process, but they are usually everything but easy. There's no need to risk realizing how difficult local moving can be until you actually start packing and preparing your items for transport. Instead, contact Bravo Moving for support and inquire about our team of local movers California loves. It's going to be our pleasure to help you relocate to your new home in a timely and effortless manner. All of our movers are trained and experienced, and they have more than enough motivation to help you have the move of your dreams. We're at your full disposal all throughout the year.
When is the help of our local movers in California imperative?
Getting a team of reliable California local movers is always a good idea. However, there are some circumstances when you'll want to make sure that you have a valuable team of movers working in your corner. If you are facing one or a few of the following situations, then you will want to think about hiring a team of local movers in CA that you will trust:
Having to relocate a lot of heavy, robust, bulky, or otherwise oddly-shaped items.
Finding out that you have to move on short notice, which is usually the case with military moves California residents experience.
Moving during a season when the weather is extreme.
Having to move a lot of items that are one-of-a-kind, expensive, or emotionally precious.
It goes without saying that one can always attempt to move on their own. But if you have the chance to get some help, you should use it – especially if you want to have a stress-free move.
Why should you opt for Bravo Moving's premier moving assistance?
Whether you need trusted residential movers or commercial movers in CA, Bravo Moving is here to assist you. Our company has worked on assembling a team of local movers that have sufficient experience and skill, and we have gone through extensive rounds of interviews before welcoming a member into our team.
Likewise, all of our team members possess the necessary qualities, such as punctuality and efficiency. You can rely on them to arrive at your location five minutes before the time that we have agreed upon. Once at your property, our commercial and residential movers in CA will work quickly yet safely. The fact that our moving team is prompt will not in any way affect the quality of their work.
With the safety of all of your items being intact, there won't be a reason for you to worry or stress. That's one of the main benefits of working with our local movers, long distance movers, and interstate movers California loves and respects – you get to relocate your items without dealing with any material damage.
How to get access to a team of local movers in California that you will love?
Getting access to our local, interstate, or long distance movers is simple. We suggest that you begin by giving us a phone call or requesting a free moving estimate. The non-obligatory estimate is a way for you to get an idea of what the final number of the bill will be.
Keep in mind that the final amount on the bill will depend on the special moving services that you opt for. Needing the help of our international movers, for example, might result in a higher bill. Of course, every moving team serves a purpose, as they will make your life during relocation that much easier.
Likewise, give storage solutions a thought before your time runs out. The last thing you need is to move to the new area only to realize that you don't have sufficient space for all of your items.
About the area we work in
As the financial center of California, and the place where you are most likely to be star-struck, Los Angeles is a city that attracts many people. And there are good reasons for that. The county has what some consider to be a perfect climate that makes it possible to indulge in many different outdoor activities. However, one should keep in mind that LA county might not be for those faint of heart. Living in the area is expensive, with a family of four having estimated monthly costs of $4,828 - and that's without rent. That's why LA's cost of living sits at 176.2, with median housing prices being at $883,400.
That being said, if you do decide to move here, you have quite a few options. Areas such as Downtown Los Angeles are perfect for young professionals and singles. On the other hand, Glendale and similar neighborhoods offer amazing views, peace, and tranquility. And, of course, there's always Hollywood and/or Beverly Hills if you want to be surrounded by celebrities. Either way, you are not going to be lacking options after deciding to move to this area. Once your decision is finalized, make sure you do the best thing for yourself and give us a call.
Contact Bravo Moving for premier local movers California knows and trusts
Don't let your local relocation become too complicated and difficult. Instead, contact Bravo Moving for support and make sure that you have our team of local movers California loves by your side. Our reliable moving team will be there to cater to your numerous needs before, during, and after relocation. We want to ensure that every item you own is safely transferred to the new location. Therefore, you can count on our full support and tailored moving services. Your relocation deserves nothing less than the royal treatment it will receive.
GET IN TOUCH
Send Us A Quick Email