LONG DISTANCE MOVERS SAN FRANCISCO, CA
Join forces with Bravo Moving, a company that specializes in San Francisco California long distance relocations. With our expertise and knowledge, we can ensure hassle-free transfers nationwide!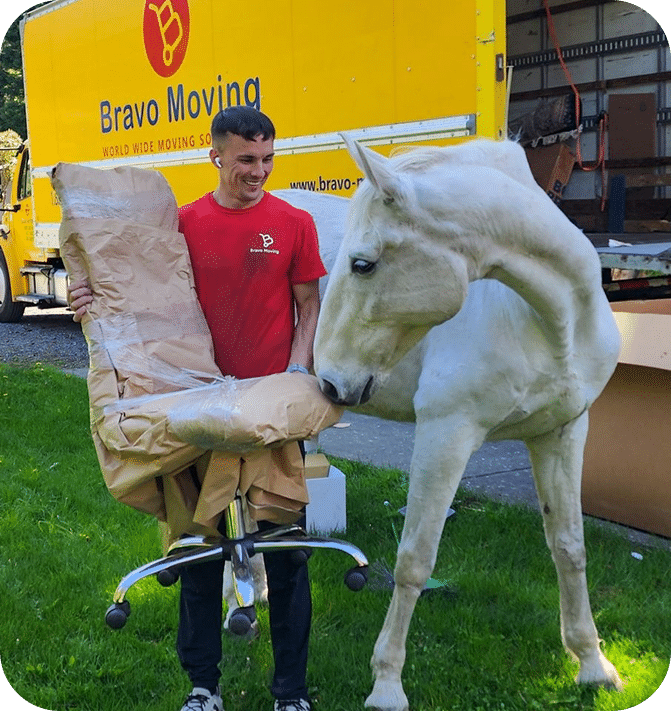 Are you debating the pros and cons of long-distance moving to or from San Francisco? Well, your sleepless nights are over. Bravo Moving, a reputable moving company known all across California, is here to transform your apprehensions into sheer delight. In this post, we explore how our professional, affordable services encompassing packing, storage, and transportation solutions take the sting out of long-distance moves. Brace yourself for a seamless relocation experience that puts control in your hands while offering peace of mind—no horror stories, hidden fees, just honest work done right. Your San Francisco moving venture starts right here!
Bravo Moving is one of the top long-distance movers in San Francisco, CA. With our experienced and skilled team, we offer premium moving services for your long-distance relocation needs. Our company is fully licensed and insured, ensuring a safe and efficient move. Contact Bravo Moving for a free quote, and let us take care of your long-distance move with professionalism and expertise.
Discover why Bravo Moving is the Top Long Distance Mover in San Francisco CA
Whether moving to another state or across the country, Bravo Moving provides professional and affordable services to meet your needs.
Moving long distances can be a daunting task, with logistical challenges and potential complications along the way. That's why it's essential to choose a moving company that specializes in long-distance moves and has the expertise to handle the complexities involved. Bravo Moving has established itself as a top-notch long-distance mover in California, with a team of experienced and trained professionals who ensure a flawless cross-country move.
From the moment you contact Bravo Moving, you can expect excellent customer service. We understand that every Cross Country move is unique, and we take the time to understand your specific requirements and concerns. Their knowledgeable team will guide you through the process, offering advice and assistance at every step.
Bravo Moving offers various options for long-distance relocation, catering to different budgets and preferences. Whether you prefer a full-service Cross Country move where we handle everything from packing to unpacking, or if you'd like to pack your belongings yourself and only require transportation, we have customized solutions to meet your needs.
Imagine you've secured a job opportunity on the East Coast, and you need to relocate from San Francisco to New York City. Bravo Moving will work closely with you to create a detailed plan tailored to your timeline and budget. We will meticulously pack your belongings using high-quality materials to ensure our safety during transit. Using modern equipment and techniques, We will load your items onto our well-maintained trucks, ready for transportation.
One of the advantages of choosing Bravo Moving for your long-distance relocation is our commitment to providing personalized attention throughout the entire process. Our team will keep you informed about the progress of your move, providing updates on estimated delivery times and addressing any concerns you may have. This level of communication helps to alleviate stress and allows you to focus on other aspects of your move.
You Will Enjoy Your Long Distance San Francisco California Move With Bravo
Bravo Moving understands that a successful Interstate move involves more than just transporting your belongings from point A to point B. We go the extra mile to provide additional amenities to enhance your moving experience.
Storage services are available if you need a temporary solution for your belongings before We are delivered to your new home. Bravo Moving offers secure storage facilities in Glendale and throughout Los Angeles County, ensuring the safety and protection of your items during the transition period.
Let's say you're moving from San Francisco to Los Angeles, but you haven't finalized your new living arrangements yet. Bravo Moving can store your belongings in state-of-the-art facilities until you can deliver them. This convenience eliminates the need for finding alternative storage solutions and gives you peace of mind knowing that your possessions are safe and accessible.
Additionally, Bravo Moving provides moving supplies such as boxes, packing materials, and tape. These supplies can be included as part of our full-service packing option or purchased separately if you prefer to pack yourself. With high-quality packing supplies readily available, you can ensure that your belongings are adequately protected during the journey.
As we've discussed the available amenities offered by Bravo Moving, it's clear that we prioritize providing comprehensive solutions for all aspects of your long-distance relocation.
Premium Long Distance Services From Bravo at Affordable Prices
When it comes to long-distance moves, ensuring the quality and standards of the moving company is essential for a stress-free experience. San Francisco, CA, long-distance movers stand out for our commitment to providing professional and reliable services. These movers undergo rigorous training programs to develop our skills and expertise in handling long-distance relocations. We are experienced professionals who understand the nuances associated with long-distance moves, from proper packing techniques to safe transportation of belongings across state lines.
Choosing a reputable moving company ensures that your valuables are handled carefully and arrive at your new destination in the same condition We were before the move. San Francisco, CA, long-distance movers prioritize the safety of your belongings and take necessary precautions to protect them during transit. We utilize packing materials such as sturdy boxes, bubble wrap, packing paper, and furniture blankets to safeguard fragile items from damage.
Furthermore, these professional movers adhere to industry standards and regulations to offer high-quality services. We have proper licensing and insurance coverage, which provides peace of mind, knowing that any unforeseen incidents or damages will be addressed appropriately.
Additionally, hiring professional movers helps prevent injuries while lifting heavy items or maneuvering large furniture pieces through narrow hallways or staircases. Our expertise allows them to handle each item with care, ensuring no harm comes to your belongings or property.
Breakdown of Moving Costs
Moving can be an expensive endeavor, especially when it involves a long-distance relocation. It's crucial to have a clear understanding of the breakdown of moving costs to effectively plan your budget and avoid any surprises along the way. Here are some factors contributing to the overall cost of a long-distance move with San Francisco, CA, movers.
Distance: The distance between your current location and the destination plays a significant role in determining the cost of the move. Longer distances typically incur higher costs due to increased fuel expenses and additional travel time for the movers.
Volume or Weight of Belongings: The amount of belongings transported also affects the cost. Movers consider either the volume or weight of your items when providing an estimate. A larger or heavier volume will require more workforce and resources, leading to higher costs.
Packing and Materials: If you opt for full-service packing, where professional packers handle the entire packing process, there will be an additional charge for packing materials such as boxes, tape, padding, and wrapping materials.
Additional Services: Any additional services requested, such as disassembly and reassembly of furniture, appliance servicing, insurance coverage, or storage, will incur additional charges.
Time of Year: The timing of your move can also impact pricing. Peak moving seasons, typically during the summer months or weekends, may have higher rates due to increased demand.
Accessibility: The accessibility of your current and new home can influence costs. If there are stairs, elevators, or long carrying distances involved, additional charges may apply.
It's important to discuss these cost factors with your San Francisco, CA, long-distance movers to obtain a comprehensive quote that aligns with your budget and requirements. We can provide detailed estimates based on Our expertise and experience handling similar moves.
Understanding the breakdown of moving costs allows you to plan accordingly and make informed decisions. By considering these factors and working closely with San Francisco, CA, long-distance movers, you can ensure a smooth and financially manageable relocation experience.
When planning a long-distance move, it is essential to understand the factors contributing to the overall cost. These factors include the distance of the move, the volume or weight of belongings, packing materials, additional services, timing of the move, and accessibility of both homes. By discussing these factors with your movers and obtaining a comprehensive quote, you can effectively plan your budget and avoid surprises. Understanding the breakdown of moving costs allows for informed decision-making and ensures a smooth and financially manageable relocation experience.
Where Affordable Cost Meets Amazing Service
When it comes to long-distance moves, ensuring the safety and security of your belongings during the transportation process is of utmost importance. Bravo Moving understands the significance of proper packing techniques and utilizes high-quality materials to provide secure packing solutions.
To ensure the protection of your items, Bravo Moving provides a range of packing materials, including sturdy moving boxes in various sizes, bubble wrap, packing peanuts, furniture blankets, and mattress covers. These materials are designed to safeguard your belongings from potential damage during transit.
For delicate and fragile items such as glassware or electronics, Bravo Moving employs specialized packing techniques. This involves individually wrapping each item in protective layers such as bubble wrap and using dividers or compartments within the boxes to prevent movement and minimize the risk of breakage during transportation.
In addition to secure packing materials, Bravo Moving's team of professional movers are trained in effective packing techniques. We have the experience and expertise to handle different items carefully.
Properly securing items within boxes, utilizing padding and cushioning materials where necessary, and strategically loading them into the moving truck are just a few examples of the techniques employed by Bravo Moving. This ensures that your belongings remain intact throughout the journey.
It is worth noting that while self-packing may seem like a cost-effective option for some, enlisting the services of professional packers can provide an added layer of assurance. The knowledge and skills certified movers possess can make a significant difference in keeping your valuables safe during transportation.
Certified Movers and Our California Presence
When entrusting your long-distance move to a professional moving company, it's vital to ensure that our movers are certified and have undergone proper training. Bravo Moving takes pride in its team of certified movers who possess the necessary skills to handle your Interstate move efficiently and safely.
These certified movers have completed rigorous training programs, allowing them to handle different types of moves, including long-distance relocations. Our expertise extends beyond just packing and loading; we are knowledgeable in securing items during transit and unloading at the destination.
Additionally, Bravo Moving's franchise presence is another factor that sets them apart from other moving companies. With our established network across various locations, you can benefit from our extensive experience handling long-distance moves throughout San Francisco, CA, and beyond.
Having a franchise presence means that Bravo Moving has built a reputation for providing reliable and professional services in multiple areas. This not only reflects our commitment to excellence but also offers you peace of mind, knowing that you're working with a company that has proven its capabilities across different regions.
By choosing a moving company with certified movers and a robust franchise presence, you can trust that your Out of State move will be handled by professionals who follow industry best practices and have the necessary expertise to meet your needs.
GET IN TOUCH
Send Us A Quick Email