RESIDENTIAL MOVING
Residential moving made simple and straightforward – for your ultimate satisfaction.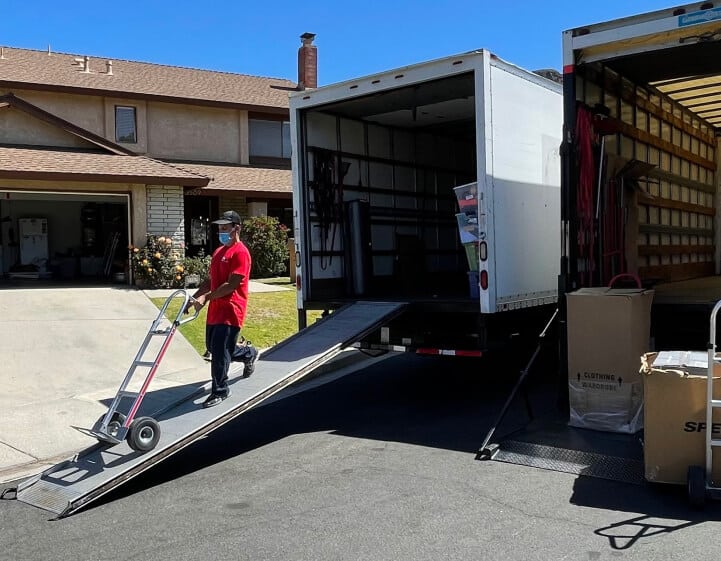 Far too often, residential moving seems like an impossibly difficult endeavor. And it usually is, but only if you don't have sufficient help at your disposal. With our residential movers California residents love and recommend, your upcoming relocation is going to be simple, straightforward, and streamlined. Leave it up to our professionals with the experience to organize your relocation, as well as pack, protect, and transfer your items to the new address. Contact Bravo Moving today, get your free online estimate, and be on your way to the stress-free move that you deserve.
When should you work with residential movers California recommends?
Every residential relocation, whether local or long distance, has a chance to become complicated. The prospect of having to safely pack and wrap all of your items is something that a lot of people can't deal with. If the thought itself is giving you nightmares, then it's the right time to opt for California residential movers who know what they are doing.
Our residential movers can aid in both local moving and long distance moving and while their help is important no matter the type of your move, there are certain situations that call for professional assistance more than others:
Don't let the stress of moving get to you and disrupt the life of your family. Instead, opt for our residential movers in California and get the help that you need and deserve.
Why choose Bravo Moving?
As a local, long distance, interstate, and international moving company with experience, we are the perfect choice when looking for cost-effective moving services that are of high quality. It's our goal for you to have an easy move that will be accompanied by zero stress and problems. And it's that goal that we had in mind when putting together our team of residential movers from California.
Truth be told, whether in need of residential or commercial movers in CA that need to help you relocate near or far, Bravo Moving could be the optimal choice for you. We provide our customers with a streamlined relocation and a full-service move, should that be what they need.
Likewise, we put a plethora of different moving services at your disposal, including senior and military moving services in CA and all over the country. We understand that every move is different and unique, which is why our California residential movers shape their assistance to the needs of our customers. When dealing with relocation, you need a team that will go the distance for you. Rest assured that we're that team, as that's not only our job – it's our pleasure.
How does it work?
Once you decide to opt for professional assistance, and you want to enlist Bravo Moving's support, you should start by contacting us. Give us a phone call during which you will give us a few basic details regarding your relocation. If you don't like this option, you can always opt for the second one – getting a free moving quote by using our calculator.
The form that you will find on our website will ask you to input a few pieces of information. Once everything is filled out, you should send the quote back to us, and wait for our reply. We will calculate the most accurate quote possible with regard to the pieces of information that we have.
Keep in mind that the final quote will greatly depend on the number of special services that you opt for. Opting for a basic relocation package isn't the same as adding special assistance options, such as senior movers.
Likewise, think about our Glendale storage services in due time. It's always best to find a company that offers both moving and storage services, thus avoiding the hassle of looking for the two separately.
About Los Angeles County - our original area
As the financial, cultural, and commercial center of Southern California, Los Angeles County is an extremely popular place for living. Usually, it's the beautiful weather that attracts people to this area and makes them stay. The weather is one of the most appealing aspects of life here, but it certainly isn't the only good thing. The cost of living in the Los Angeles County area is a bit higher in comparison to the state average. To be precise, it's 7% higher than the state average and 51% higher than the national average. Likewise, housing costs are 132% more expensive than the US average, with utilities being around 8% higher.
California might be on the more expensive side, but it also offers incredible opportunities for its residents. Art and culture are diverse, dining and entertainment options are incredible, and the views of the ocean are impressive. Add that on top of the beautiful year-round weather that we've mentioned earlier and you get a place that resembles heaven. If this sounds like your ideal place, then you ought to take matters into your own hands. Contact some of the best California residential movers around and find yourself on the road to happiness.
Contact us for a team of residential movers California loves
If the thought of moving is giving you trouble, know that you don't have to go through it by yourself. Instead, simply contact Bravo Moving and equip yourself with a team of residential movers California trusts. Our team is going to be at your disposal before, during, and after your relocation, providing you with the care and support that you need. Rely on the knowledge and experience of Bravo Moving and see how quick and easy an average relocation can be.
GET IN TOUCH
Send Us A Quick Email