CALIFORNIA TO FLORIDA MOVERS
Team up with pro movers to make moving from California to Florida feel like a breeze!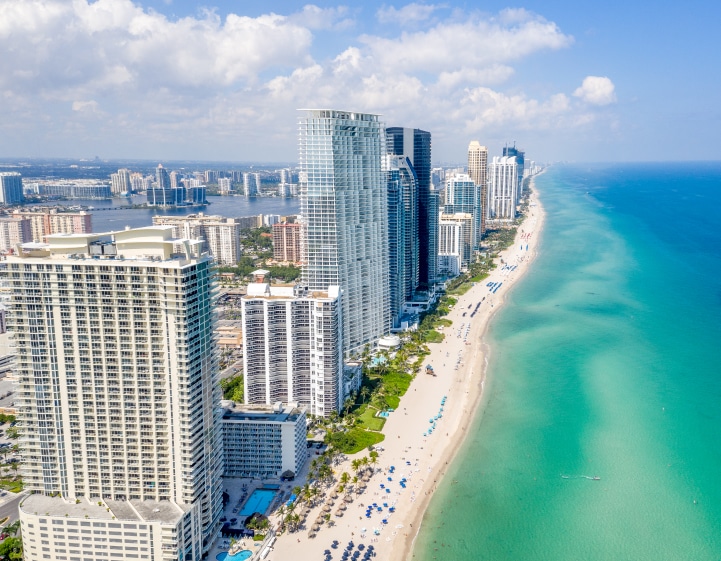 Who said that moving has to be so difficult and tempting? You may have a lack of experience and skills but our team has it all! Bravo Moving will once more show you why we are one of the best moving companies in the area. Even though some relocations are easier than others, moving to another state is something different. So, before you decide to get in touch with us and make all the necessary arrangements, we have something to share! Today, we will tell you why moving from California to Florida is our specialty and why we managed to relocate so many people on this moving route. 
Our services are the ticket to a successful relocation!
When a moving company takes a relocation from one state to another, it should be able to provide different kinds of services. And since we are professionals we upgraded our service list to the fullest. Starting from your inventory to transportation, our team will minimize the work you will have to do. To count on us to take care of everything means you will have much more space and time to deal with other relocation matters. To all of our clients, we can provide:
This means that moving from California to Florida will be our job entirely, no matter if you wish to move your home or expand a business. This is mainly because we put a lot of effort into our team, equipment, and moving methods. Our vehicles are spacious and our movers will get you anywhere in Florida sooner than you thought. 
So, how does moving from California to Florida work for us?
You may think that you will have to spend a lot of time planning this relocation, but the truth is completely different. Our interstate movers California residents love will are just a couple of clicks away! Once you make a final decision to move and choose a new location, we will need a couple of information from you. Firstly, tell us about where you currently live and where would you like to go. To make those first steps even easier you can even tell us about the preferable date for our relocation. 
Once you have all the options in front of you, our team will help you choose suitable moving services. Moving to Florida from California is a huge step if you don't have enough experience and we will gladly help you with making the plan. All of our movers in Los Angeles area have been doing this long enough to know what things to avoid and what to do while moving. 
We know everything about this moving route!
And since we are experts in the moving world we had to expand our knowledge for our clients a little bit. Getting useful information about the routes we operate on is our job and we love doing it. This way you will be closer to your home before even setting foot there. And if we are to speak about California and Florida, there are a couple of things worth mentioning. The most obvious difference is that Florida state is less populous than California. It is home to around 21.78 million and California to 39.24 million.
These numbers will go on to determine a lot of other things as well. For example, the living costs in Florida are also lower than those in California and rate at 103.1/100. So, after your relocation is over you can proceed to treat yourself with many winders you can find in Florida.
Back in 2019 around 28,628, people decided to move from California to Florida which makes it the 5th favorite destination for California residents. the numbers, of course, dropped once the Global Pandemic started, but at the end of 2022, people were back on the track. The majority of them will find a good Glendale moving company like we are, and usually set the destination for cities like:
Miami
Orlando
Tampa
Jacksonville
Fort Lauderdale
For those who want our long distance movers Los Angeles based to take them to a similar city, then Miami is the place. You will be surrounded by new faces, but will have an equal feeling of urban and fun around you!
The best price for the amazing moving experience
Our prices are balanced with the moving services we offer but with your budget as well. Bravo Moving will not let you spend a huge amount of money on this relocation, but instead, stay within your financial limits. But since every budget is different we have found a way to make you know your price in advance. On our official website, you can request a free moving estimate. It is calculated according to your current location, where would you like to go, and of course, the date you choose. Our employees will get back to you instantly with a free moving quote that will help you in many different ways. You can proceed to calculate the rest of your expenses and even choose more moving services if your finances allow it. We understand that a good price is more than important. As a result, one of the main reasons why our clients always come back to us is affordable prices.
Give us a call and moving to Florida from California can begin!
Moving from California to Florida can begin as soon as you get in touch with us. Bravo Moving and our team will make sure you have all the moving services needed for a successful relocation. Our trucks and professional movers will be on their way on the scheduled day and your relocation will begin. Let us be a part of this wonderful experience and take you to your new home or office!
Image credits:
https://www.pexels.com/photo/person-packing-glasses-inside-a-package-box-7464674/
https://www.pexels.com/photo/man-in-carrying-a-green-sofa-7464681/
https://www.pexels.com/photo/coconut-trees-2225499/
GET IN TOUCH
Send Us A Quick Email