CALIFORNIA TO NEW JERSEY MOVERS
Let our professional movers show you that moving from California to New Jersey doesn't have to be nearly as stressful as it sounds.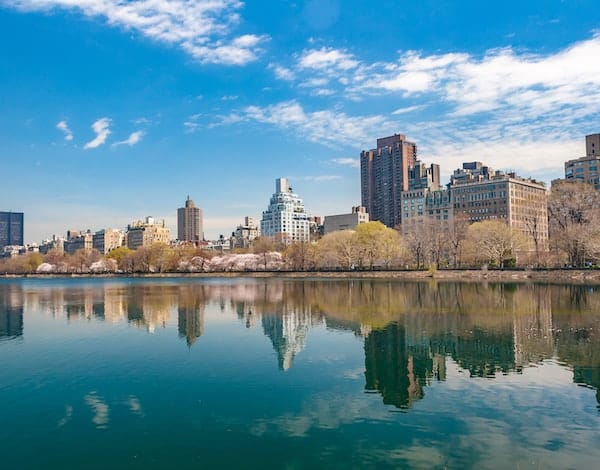 If you're thinking about moving from California to New Jersey soon, you should start with relocation preparations on time. Even though you could accomplish it on your own, hiring professionals will make your interstate move to New Jersey easier. If you choose to invest in getting a satisfying moving experience, make sure to contact Bravo Moving. Our moving experts have the skill it takes to move you across the country safely, and for a reasonable price! Call us today and see why we're one of the long distance moving companies California residents trust the most!
Why should you choose us to help you with moving from California to New Jersey?
When relocating to New Jersey from California, you should know that the distance between the two states is almost 3,000 miles. Keeping in mind it'd take approximately 45 hours of nonstop driving to get there, you'll definitely need moving assistance. Luckily, our experienced cross country moving companies in California can facilitate your move and ensure you bring everything along! After all, we are familiar with these roads like the back of our hands, so we know exactly what to expect.
With Bravo Movers by your side, you can expect absolute dedication to ensuring the success of your relocation. We will give our best to fulfill all your moving requests, and thousands of happy customers can confirm that! As soon as you get in touch with us, we'll come up with a custom relocation strategy to meet your needs. At the same time, you can count on us to answer any questions you might have along the way. On top of that, not only do we offer premium services, but our rates are budget-friendly as well!
What can we do to make your move an unforgettable experience?
The success of your cross-country move depends on many factors, some of which you can't even anticipate. However, what you can do is hire experienced and reliable California to New Jersey moving companies to assist you. In that case, you can relax knowing that our movers have the know-how and equipment necessary to move your possessions safely. We also offer a wide selection of moving services in California, for business and residential relocations alike. That being said, here are just a few of them you can expect to find if you contact us:
Don't worry if you don't see the service you need here, as this list is far from complete. Simply give us a call, and see what else we can do for you! Of course, you can always request a free estimate before deciding to use any of the moving services we provide.
Why are people moving from California to New Jersey?
California is the wealthiest, most populated, and one of the biggest U.S. states by area. However, while many people chase their California dream, plenty of people hire movers in Los Angeles area to look for their fortune elsewhere. Just from June 2021 to July 2022, about 112,000 people left California, and 360,000 left during the pandemic. While most Californians are leaving for nearby states like Texas, Arizona, and Nevada, many also move cross country.
The trend of moving to and from nearby states is also valid for New Jersey. As moving statistics say, most people move to New Jersey from New York, Pennsylvania, and Florida. However, some even come all the way from California. That being said, there are various reasons why someone might think about relocating from sunny California to New Jersey. It might be the desire to be closer to family or to take advantage of the state's lower costs of living. However, it also seems that people frequently move to New Jersey looking for a better educational system. 
Consider New Jersey's real estate market and cost of living
Living in California and New Jersey is not cheap, with the costs of living being above average in both states. However, while these costs are about 20% higher than average in New Jersey, in California they are higher by 50%. Therefore, hiring long distance movers Los Angeles residents recommend and moving to New Jersey might be a wise financial decision.
The biggest difference in costs between these two states is when it comes to housing. Even though property prices are rising everywhere these days, you're more likely to afford a house in New Jersey. According to Zillow, the average price of a home in this state is $474,669. Meanwhile, an average home in California would cost you as much as $760,644! The rental rates vary by city, but even so, you'll still save a couple of hundred dollars monthly by moving interstate.
Take advantage of New Jersey's booming job market
If you relocate from California to New Jersey, you can expect to find a great variety of jobs. In fact, career opportunities are one of the reasons why you should hire a Glendale moving company to come here. First of all, this is a great state to look for a job in the healthcare industry. Also, there are many teaching and administrative roles available in schools and colleges, making education another significant industry in New Jersey. And even though California is more famous for its booming technology sector, IT specialists will like New Jersey as well. Whatever your qualifications and experience, New Jersey probably has a career opportunity for you!
Get in touch with us right now and have the smooth move you deserve!
As hard as it seems, moving from California to New Jersey can be a simple and stress-free procedure. You can count on the Bravo Moving team to support and help you in every possible way. However, don't simply rely on what we say without checking for yourself! Get in touch with us right immediately and start your moving preparations the right way.
GET IN TOUCH
Send Us A Quick Email