CALIFORNIA TO NEW YORK MOVERS
Moving from California to New York can be a joyous, stress-free event with a reliable team by your side.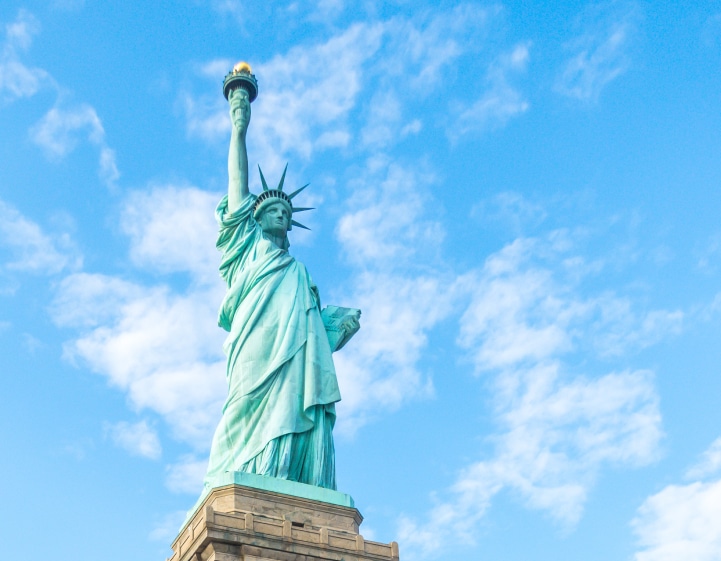 It doesn't take too much to know what is best for you. Choosing a good perfume, a good car, or going on a dream vacation is something you absolutely deserve. So why not do the same when the time for moving comes? Your relocation deserves nothing less than to be successful, affordable, and pleasant. With Bravo Moving you can have it all, as we will make sure everything turns out the way you want. So, while you are getting ready to give us a call, let us share why moving from California to New York is our specialty!
Name a service- we can provide it!
A good moving company should make sure to provide all the moving services you need. Transportation may be the most important one but that is not everything moving is about! With us, you can get moving services that will help you go through the entire process easily and without wasting too much time and money. After all, moving to New York from California means you will be moving to another state across the country, and doing it on your own can be difficult. You can rely on our:
No need to worry about the price
We know that you may instantly think that our services are everything your relocation needs, but the total cost may be too expensive. Luckily, once you request a free moving quote, you will see that the truth is much different. Our goal is not to take a fortune from you but to leave you absolutely satisfied with our services, and because of that, we made a balance between prices and services. If you just take some time to calculate the price of moving from California to New York on your own and compare it with your prices, you will know we are right!
Moving from California to New York will be rememberable with us
As one of the best cross country moving companies in California, we have plenty of experience and skills for these types of moves. Once you trust us with your items we will begin making a perfect relocation plan with you. With our professional and spacious vehicles and an excellent team of movers, you will only get to enjoy. There will be no need to think about the time of your arrival or whether will you have enough time to prepare your new home. 
And those who will be leaving Los Angeles should be at peace regarding its traffic jams. Our movers in Los Angeles area will choose the best-moving route for you and your items will arrive on time. Those 2,914.7 miles between California and New York are nothing we can't handle! 
Benefits to relocating with Bravo Moving
Apart from not having to pay a lot and moving faster, there are more benefits to moving from California to New York with your team! Keep in mind that you will not have to worry about the safety of your items, as we know how to deal with them and prepare them for transportation. You will not have to travel all that road always thinking about what is happening in the back. We eliminate moving stress and we are proud of that!
Start living in New York like a boss!
With a population of 8.468 million people, the state of New York is a dream place for many people. And while some of them work hard to come and visit it for at least a couple of days, others however want to call it their home. Little by little, New York became one of the most popular places on Earth with around 65.2 million people visiting it each year. So before you officially schedule your relocation let's go through some things that will be waiting for you there!
California vs New York: Living costs
Once you move to New York you can expect prices to be a little bit higher. The living costs in California currently rate 149.9/100 while New York is at 168.6/100. And even though our long distance movers in Los Angeles will not cost you too much, you should know the exact comparison of costs between these two states. Here are the most essential ones:
Groceries: California 105.1/100 - New York 116.6/100
Utilities: California 102.4/100 - New York 150.5/100
Housing: California 234.8/100 - New York 224.3/100
How often do people move from CA to NY?
It is worth mentioning that this is a very common moving route. In fact, before the Global Pandemic in 2019 around 24,332 people decided to leave California and move to New York. A huge number of them were young professionals and freelancers but there were also a lot of families with kids. But the opposite route happens a lot as well. That same year 37,567 people went to California mainly because of the lower living costs.
How to hire us when moving to New York from California?
The process of hiring us will not take you more than a couple of minutes. To reach a trustworthy Glendale moving company, all you need to do is give us a couple of important pieces of information. We will need to know your exact location, where in New York would you like to go, and the preferable date of your move. Our team will instantly get back to you with a couple of options you can choose from. If you are moving for the first time, don't worry, we will help you choose what is best for you and your inventory!
Get in touch with us!
The professional Bravo Moving team is waiting for you to give us a call! We will try to make moving from California to New York an experience to remember no matter how long your inventory list is. Even if you are moving on short notice, that is not an issue as we specialize in making good plans quickly. Get to know your new home as we will provide you with all the time in the world to do so!
GET IN TOUCH
Send Us A Quick Email