CALIFORNIA TO TEXAS MOVERS
Let licensed and insured, BBB-accredited movers take care of every task when you opt for moving from California to Texas.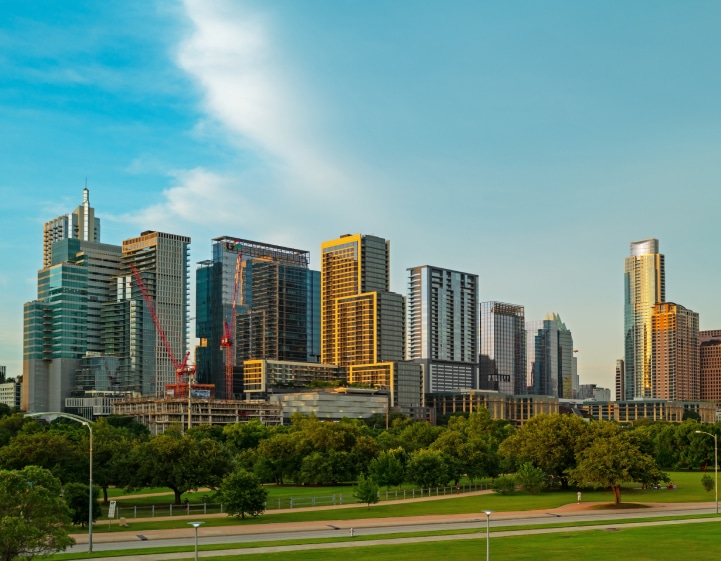 They say that there is no better feeling than making a decision to move to another state. This means you are ready to change things in your life and open yourself to new opportunities. With Bravo Moving, that is not only possible but will be extremely easy as well! With the moving services we can provide, moving from California to Texas will not have you spend a fortune, and all of your items will be delivered on short notice. But apart from that, we are the ones who can help you plan your relocation as well! Before you call us, take a minute to see why we should be by your side once you decide to move to Texas.
With our services, moving from California to Texas will not be difficult
A good moving company should be able to provide excellent moving services to all of its clients. And since we are one of the best companies in the area, we are more than proud to share ours with you. Moving from California to Texas is considered to be a long distance relocation, and you will need a couple of more services apart from transportation. Crucial services our company offers include:
As one of the most trustworthy cross country moving companies in California, distance means nothing to us. After being in the moving business for many years, our experience can take it all. So, don't let those 1,407.1 miles between CA and TX bother you. Leave it to us and our professional team.
Our job is to transport your items safely!
Since one of our main tasks is safe transportation, it should be the least of your worries. Our company has modern and spacious vehicles operated by a team of professional movers. Each one of them is trained and has moving skills that focus mainly on the safety of your inventory. Movers in Los Angeles Area will not get stuck in traffic jams or be late for delivery. We know all the best and fastest routes to Texas that are functional even during the big national holidays. Even if you decide to make some last-minute changes, and add more items to your inventory list, our team will try their hardest to find more room and include it in your relocation!
Bravo Moving cares about your budget!
Just like we will not let you transport your furniture alone, we will also prevent you from spending a fortune on your relocation! Just one click on our official website will get you a free moving estimate and you will get the approximate price for moving from California to Texas. And since you will want to treat yourself a little after settling in Texas, your budget will very much appreciate our low prices!
Moving from California to Texas: Sharing our experience
Our long distance movers Los Angeles carry out dozens of relocations daily. It is hard not to notice that a lot of people move to Texas, and for various reasons. Back in 2021. California said goodbye to 1.9% more residents, and more than half went straight to Texas. In 2019. almost 82,235 people moved to Texas, and that made it 1st common destination for residents of California. Even though a new job offer or a change of lifestyle are valid reasons, there is something else that makes people turn to the Lone Star State. 
Housing costs in Texas are not only below the national average but way below California's housing costs. Currently, they are rated 83/100 while CA still holds onto 234.8/100. The difference in numbers is huge, and those who plan to settle permanently will instantly go with the option more suitable for their budget. Relocating from CA to TX can help you buy a dream home, and if you have been planning it for a while, it is time you check the real estate market.
And those who want to move because they are looking for a new job will be happy to know that the unemployment rate in Texas is 3.9% while in California it is 4.2%. So, if your profession is related to tech, finances, or medicine, you will be able to find a job in Texas relatively fast!
Ready for long and hot summers?
A lot of our clients are looking forward to the weather in Texas. Summers there are slightly different as that last longer and the temperatures are much higher. Our Glendale moving company can help you set a perfect date for your relocation so that you can avoid being exposed to harsh weather conditions. Keep in mind that California is not as humid as Texas, and you will probably need some time to adapt. 
How to hire us?
As you probably love surfing the web, you will find hiring us to be extremely easy. All you need to do before moving to Texas from California is to check our website! Our team will gladly guide you through the entire process and help you choose suitable services. Even if you are moving for the first time, we will not let you do it on your own. Your only job will be to provide a couple of details including your current location, and where exactly would you like to move to in Texas! 
It is time to give us a call!
And now that you know that moving from California to Texas is our job, you can get in touch with us! Let us help you prepare for our arrival like a real professional. Bravo Moving team of movers and operators will answer all of your questions related to pricing, the equipment we use, and much more. You can also spend some time checking out our moving reviews. Our client base is filled with people sharing their moving experiences and we will be happy to see you join them!
GET IN TOUCH
Send Us A Quick Email