LOS ANGELES TO SAN FANCISCO MOVERS
Partner up with some of the best Los Angeles to San Francisco movers for a premium level of moving services.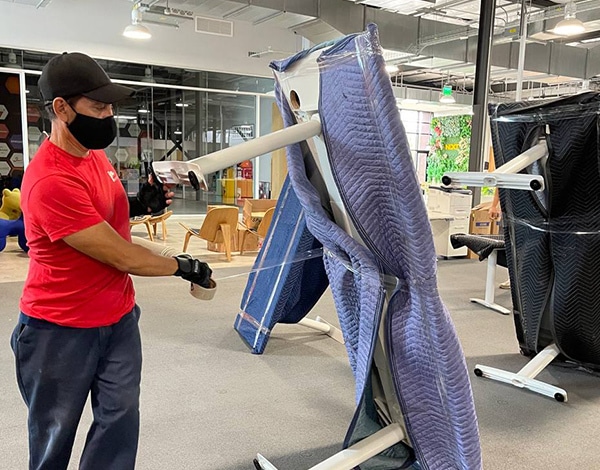 City-to-city moving is both exciting and challenging. And when things are like that, you usually need professionals by your side, so that you can only enjoy the positive side! Bravo Moving will be your trustworthy partner for your upcoming relocation as we will do much more than just transport your items. Those who are looking for movers Los Angeles to San Francisco have come to the right place! Before you get in touch with us, let us tell you about this entire process and what is our role in it!
You request - we deliver!
Los Angeles and San Francisco may not be worlds apart, but you can't ignore those 382.01 miles as well. Luckily, when you have a good moving company by your side, every single one of those miles will feel like a road trip! Our long distance movers California residents trust will be of great help to you as well, as they can take care of your entire relocation quickly. We don't only deal with transportation but rather offer other services that will release you from spending hours and days moving. With us, you can count on:
Complete safety of your items
Punctuality 
No hidden fees
Good piece of moving advice
Why do you need movers Los Angeles to San Francisco?
If you just take some time to think about all that time and money you will have to spend moving on your own, you will get your answer. Our movers from Los Angeles to San Francisco will not make any delays and your relocation will be carried out right on time. And even if you have some experience when it comes to moving, you probably know that relocations are pretty unpredictable. You can easily end up stuck in traffic, with an unsuitable vehicle for your move, or even lose something along the way. With us, however, you are all covered!
We are more than proud to say that our company has modern and spacious vehicles that can carry a lot of items and boxes. What is even more important, our team of movers is trained to deal with your inventory on a highly professional level. Everything will be loaded and delivered safely to San Francisco, even faster than you thought.
Moving your business from Los Angeles to San Francisco? We got you!
Our Los Angeles to San Francisco movers can help you move your business too! Thanks to our commercial movers California business owners trust, your office inventory will be safe and we will not disappoint you or your clients! The business shouldn't suffer no matter where you decide to move, and our method for achieving that is simple! Our team of movers will quickly load the trucks and transport your items to San Francisco! You will not have to postpone deadlines and will arrive just on time to present your services to a new client base in SF!
And while we work, you can prepare as well
While our movers in Los Angeles County deal with your inventory, you will have some things to do as well. It will be our pleasure to provide you with enough time to learn everything you need to know about your new home. Moving from Los Angeles to San Francisco is more common than you think, and a lot of people chose it as their moving route. In fact, in 2021. San Francisco welcomed 1.6% more Los Angeles residents than in the previous year. While the reasons may vary, there are a couple of ones that are always at the top of the list.
Most of the time, people will choose the city of San Francisco over Los Angeles because of better job opportunities. Believe it or not, San Francisco's unemployment rate is 2.3% while Los Angeles still holds 4.6%. For someone who is actively looking for a job the difference is huge, and people will often waste no time scheduling their relocation.
On the other hand, living costs are something to mention as well. As of 2023. living costs in San Francisco are way above the average and rate 244.0/100. In Los Angeles, they are much lowers, 176.2/100 but still going above as well. If there is a good job opportunity waiting for you in San Francisco, you are all set to go. With our long distance movers Los Angeles based, the only thing waiting for you will be a huge business success!
Our prices will fit your pocket
And just like we care bout your items and moving experience, we care about your budget as well. If you check out our official website, you can request a free moving estimate there! We will instantly get back to you with the approximate price of your move so that you can work on your finances. Our team understands that moving is not the time for wasting money in vain, and we will not let that happen!
Just like we want to help you by balancing our prices, we are doing the same with the locations we serve. No matter if you need a Glendale moving company or some other city in California, we will be there to accept your moving request. Combine the best moving team, good prices, and accessibility, and you will get a successful relocation and a happy customer!
Get in touch with movers Los Angeles to San Francisco, and let's move together!
No matter where you are in Los Angeles, all you need to do is give us a call! Our employees will guide you through the hiring process and help you choose suitable moving services. Bravo Moving has been in this business long enough to know that people usually have a lot of questions prior to moving. Well, let's hear them all! As we love to say, we move you all forward and that is exactly what we plan on doing with you as well!
GET IN TOUCH
Send Us A Quick Email