LOS ANGELES TO SAN JOSE MOVERS
Move quickly and hassle-free with some of the best movers from Los Angeles to San Jose.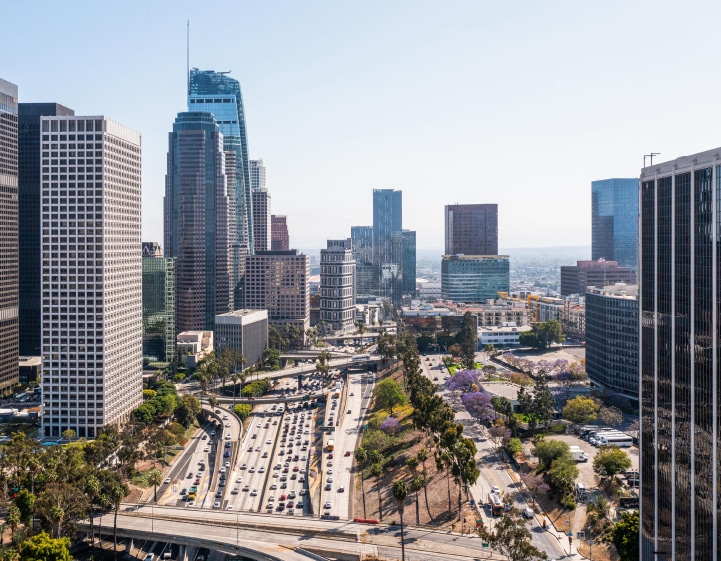 The state of California has always been very attractive for relocating to. It has a lot to offer regarding weather, jobs, education, and overall quality of life. So, it has always been tough for Californians to move to other states. However, moving within the state itself is a different thing. With that being said, we would like to invite all of you who are thinking about moving from Los Angeles to San Jose to get in touch with Bravo Moving, our moving company. We are going to provide you with the moving help that you deserve. And, we are going to do it at affordable pricing. Therefore, waste no time, but get on the phone with us!
How we can help you with moving from Los Angeles to San Jose
Moving is an industry that has become very diverse. After all, people relocate both locally and to all parts of the world. With them, they take their families, but their companies as well. So, it should come as no surprise that there are long distance moving companies California has to offer that specialize in different moving services.
With that being said, we would like to point out that you are in the right place no matter what kind of moving help you need. Our moving crews have been very well trained and can help you virtually almost with any kind of moving help. Some of the most popular moving services that we receive questions about in regard to relocating from Los Angeles to San Jose are our most popular services overall:
Residential relocation from LA to San Jose with our crew will ensure that your family's move takes just enough time as needed so that you can get back to your daily lives as soon as possible
Relocating a company is demanding. Many families depend on you, not just your own. Our commercial movers California trusts can help you relocate swiftly and get back into the business in record time!
As you can imagine, this is just the tip of the iceberg! In the case that you require peculiar moving help, just call us. We are going to come up with a way to help you out!
Why choose Bravo Movers for your relocation from Los Angeles to San Jose
Choosing a Los Angeles county moving company can sometimes be pretty difficult a choice to make. However, knowing why you are making a choice is something that is going to help you believe you are on the right path.
With that being said, we would like to encourage you to join hundreds of people that our movers helped relocate so far. We have had a lot of success in the moving industry thanks to careful listening to our customer's requirements. Once understood what customers need, we go out and come up with a tailor-made moving solution according to the peculiarities of your move. After all, we all know that there are no two identical relocations.
Choose empathetic movers
Furthermore, we take great pride in what we do. Therefore, we seek to employ only the people who feel the same as we do. For you, this means that your move is going to be handled by empathetic movers and packers Glendale CA has to offer who will have patience and the will to answer all of your questions.
How does the moving process work?
Plenty of people fear relocation simply because they do not have information on how this process works. Therefore, let us share some information with you on this subject.
The first thing that you need to do is to call us. You should explain to us what kind of moving help you seek. Then, we are going to provide you with a free moving estimate that is going to inform you of how much money you should invest in your relocation with us.
Step two - let's make a personalized relocation plan
The next step in the process is for you to choose what moving services you require. Once you let us know about it, we are going t agree on when your long distance movers Los Angeles has to offer are going to come to your place to begin your move. It could be on the day of the move or earlier. This is going to depend on the services you would opt for.
Ultimately, we will have finished our job once you and your belongings have been safely and in a timely manner relocated to your new home or office. In the end, you will be ready to start settling in.
Why relocate from LA to San Jose
In case you are thinking about moving from Los Angeles to San Jose, you might want to know how people generally feel about living in these cities.
First of all, let us point out that the California exodus has been most prominent from two cities in California: Los Angeles and San Francisco. After all, people have realized that they can work remotely and have no need to stay in one of the most crowded and the most expensive cities in the country.
On the other hand, guess what city has been dubbed one of the most desirable to live in California: San Jose. The reasons why San Jose is ranking so high are numerous: a great abundance of jobs, a quality labor market that enables you to grow your business, overall affordability of the costs of living by California standards, and the ability to spend quality free time all play a role. All in all, moving to San Jose from Los Angeles definitely is a good idea.
If you choose to call San Jose your new home
San Jose is a vibrant city with a lot to offer its residents. From the booming tech industry to the beautiful and diverse neighborhoods, there's something for everyone. Whether you're looking for a lively nightlife scene or a relaxing outdoor experience, you'll find it in San Jose. The city is also home to a variety of international cuisine, cultural events, and activities for all ages. With its mild climate, San Jose is the perfect place to enjoy the great outdoors and take in the beauty of nature.
The differences between Los Angeles and San Jose are vast. Los Angeles is known for its bustling city life and Hollywood culture while San Jose is known for its more laid-back atmosphere. Los Angeles is a sprawling metropolis with a vibrant nightlife scene, and San Jose is a smaller city with a more relaxed atmosphere and plenty of outdoor activities, in addition to more affordable housing.
Book your team for moving from Los Angeles to San Jose
As you have seen, regardless of your needs, Bravo Moving can help you relocate with ease. If you are looking to complete moving from Los Angeles to San Jose, make sure to call us. We are going to put all the necessary resources into your move. In the end, you can bet that you will be happy to have done business with us.
GET IN TOUCH
Send Us A Quick Email